Established with the opening of its first Robert von Hagge course in 1996, Circolo Golf Bogogno is an impressive 36-hole golf and residential estate set in a sheltered wooded valley in the northern Italian lakes district. Both its Bonora and del Conte courses are made up of nine holes from the original eighteen and another nine completed by von Hagge's partner Rick Baril later in 2000.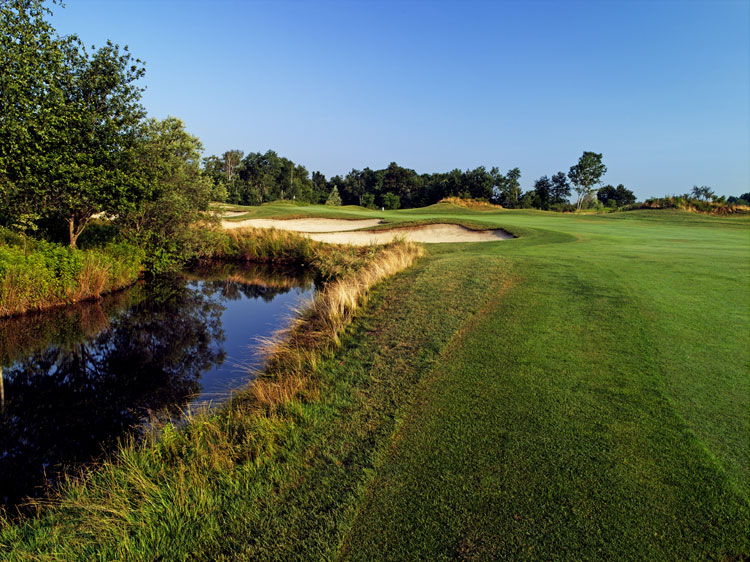 While the del Conte Course enjoys excellent views of the distant Alps, the Bonora Course is superior for its more consistent test and the use of natural streams and ponds to create a number of fine resort style golf holes. The bunkering throughout is both attractive and artistic, although not always used strategically as traps are often placed on the outside of fairways that bend around hazards which themselves offer better angles of attack into the greens.
A feature of von Hagge and Baril's work is the use of unnatural looking mounding but here the shapes around green and bunker edges, in particular, look less artificial, as the fescues and native grasses give a rugged appearance and help them blend in with their surrounds.
An early example of both his strategy and style is the eye-catching par five opening hole which bends right around a stream and then heads gradually up to a nicely bunkered green with sand down the left side. Back in the fairway the left hand traps are almost superfluous but make a big visual statement from the tee. Other quality moments include the last half of the long 3rd hole, the narrow 4th and 8th, and pretty holes like the 11th, the par three 13th across a murky pond and the dramatic 17th bending gently left around a stream that cuts across the fairway and feeds a pond hard up against the right side of its slender green. The Cape style 17th around a lake on the del Conte Course is also memorable both for the quality of the hole and the glamorous Monte Rosa backdrop.
A feature of both courses that works particularly well is the deliberately unkempt appearance of the hazards and periphery areas. Both courses have plenty of ponds and streams and the water is deliberately dirty, murky and brown to offset the lush greens and bright whites of the golf course. Reeds, weeds, vines and thorns are all used to add to the messy surroundings and provide an authentic Italian flavour. The estate itself is also a class act as the villas are well spread and the complete lack of neat garden beds and dyed lakes gives this a natural and utterly Italian feel and make it one of Europe's most pleasant golf and residential combinations.
The modern golf estate has never seemed so antique as it does here at Bogogno and it is easy to become swept away in its rustic charms. Although golf is unlikely to ever be your primary reason for visiting Italy, if it is make sure that Circolo Golf Bogogno is your first port of call. (source) Photos © David Scaletti