The Emporio Armani Golf collection continues to present high concert clothing and accessories to elevate the level of both, game and style.
The silent techno fabrics are perfect for winter rounds of golf, always guaranteeing good breathability and optimum performance.

In the woollens section, alongside a choice of clothing in stretch microfiber, there are pieces which integrate an important quality: the use of special Coolmax climate-responsive fibres, which have the benefit of expelling moisture to the outside and drying out speedily, maintaining excellent breathability; improved evaporation and a dry body result in less expenditure of the energy needed to cool the body, therefore increasing physical performance.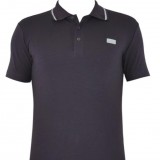 Classic polo shirts complete the look, in techno micro piquet with superior breathability, while fleeces with short or long sleeves are ideal for low temperatures.
There are also windproof and waterproof jackets and cotton trousers in a classic but sporty cut. The choice of accessories is now wider than ever: as well as golfing bags and gloves, hats and visors, EA7 offers a multicoloured golf umbrella, with handles that open out into a comfortable seat featuring the EA7 logo in reflective silver.