Shared from – Chapeau Noir Blog – Trends in Golf Apparel.
Stuart Goldstein, CNG — As a high school golfer growing up in the late '70s there were some very basic equipment and gear staples: balata golf balls, persimmon woods, metal spikes and single strap Jones golf bags. Over the years these time-tested classic clubs and accessories went the way of the rotary phone. But one is making a welcome and long overdue comeback: Jones Golf Bags.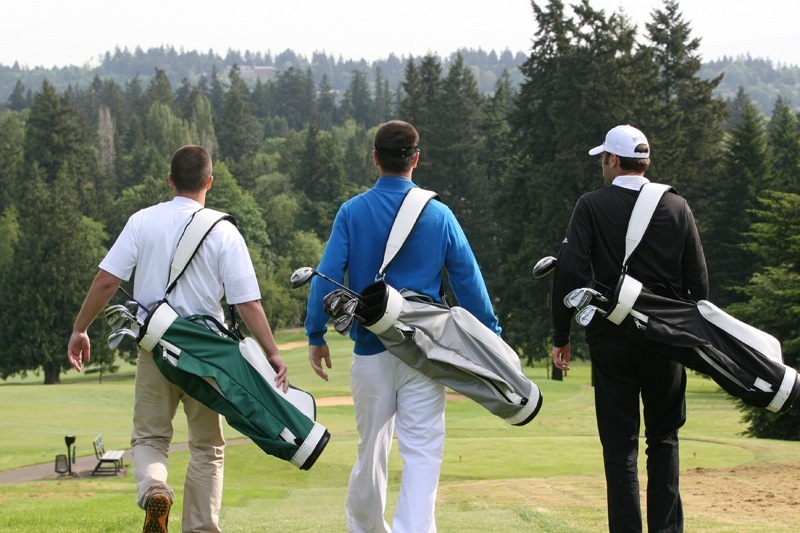 Jones Golf Bags was founded in 1971 by George Jones, a part time golfer and cab driver and full time tinkerer from Portland, Oregon. After years of refining the style and look that he wanted, the Jones brand quickly rose to become the most heavily carried golf bag in the game. It was the face of amateur, high school and collegiate golf for generations. Distinguished by its sleek, simple looks with its trademark single strap and sturdy nylon bottom base, Jones Golf Bags was designed for players who preferred to walk.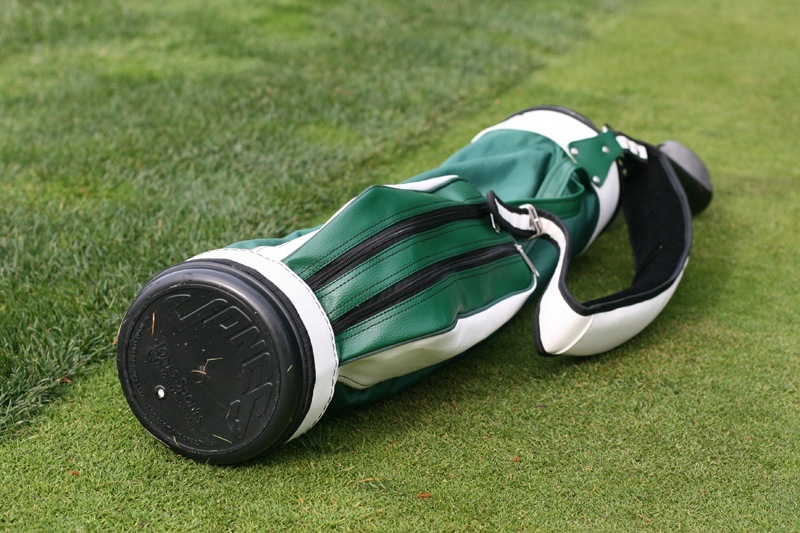 As bag technology and design evolved in the mid 1990's (Ping Hoofer bag), the Jones brand faded and sales dwindled. New competition from the OEM's entering this fertile market put increasing pressure on the brand.  In 2001 George sold the brand to The Yoshida Group who quickly changed everything about the bags but their name.
Gone were the iconic details that made the Jones brand, well, the Jones brand. It was hard to recognize the dependable Jones bag and over the next several years sales continued its downward trend. In 2007 the brand had finally stalled out and sat idle for several years.
Wanting to revitalize the great brand he grew up with, Matt and Tim Lemman bought The Jones Bags company from Yoshida in January 2012 with the goals of restoring the brand back to its original glory days and beloved state within the golf community. Putting together a strong management team, Jones Golf bags were officially re-launched in January 2012 with the Original Jones Golf bag and now the Players Series with the emphasis of enjoying your walk. In 2013, the release of a single strap Jones stand bag will hit the marketplace.
The Original Jones Golf Bag features everything you loved from the bag of generations ago but with the latest in modern day materials and technology. Comprised of ballistic nylon and vinyl, it weighs in at a very light and comfortable 3.5 lbs. Other Jones signature features have been tastefully restored including: a wide, comfortable Jones single strap, the Jones sturdy twisted handle, two zippered ball pouch, full length outerwear pocket, exterior umbrella sleeve and, of course, the Original Jones bottom mold.
embedded by Embedded Video


The Original comes in five different color options, all with white trim: black, red, gray, green and blue. The bag I tested was navy blue and white, similar to my old high school bag. The unmistakable look and feel of the Original Jones bag is still intact. I found the bag to be extremely durable and the nylon and vinyl construction, along with the classic molded bottom, does a great job of repelling water and debris. I purposely used the bag in damp, wet conditions and am pleased to say my clubs and grips stayed dry throughout my entire round. This was a big concern as most of today's carry bags come with retractable stands.
After many years of using the modern stand bag, I was surprised to find out that picking the Jones bag up and down was never an issue. In fact I found it far less stressful on my arms and back as compared to picking up, putting down and carrying a heavier stand bag. This seems counterintuitive to conventional thinking but I really found that carrying the single strap Jones bag was easier on the body than the popular stand bags on the market today.
The simplicity and thoughtfulness of the design made taking the bag in and out of a car a breeze. Actually it was quite refreshing. No more worries of broken bag legs jammed against the trunk of the car. When done playing, a simple wipe with a standard golf towel and the bag looked good as new, even the white trim.
With a traditional stand bag, I usually carry my bag with the clubs facing forward but when I picked up the Jones Bag I instinctively threw it over my shoulder with the clubs facing backwards (see attached video on how to carry the Jones Bag). It was like riding a bicycle — you never forget how to carry a Jones Bag.  Carrying the bag, club backwards, brought back memories when as a golfer all you carried were your clubs (no putter covers or hybrids), a couple of sleeves of balls, some tees and a glove. Range finders, cell phones and training aides like alignment sticks weren't part of the equation. On a related aesthetic note, I found the image of a single strap bag laying on the ground or leaning against a tree or bench a refreshing alternative to today's use of motorized carts and over cluttered stand bags.
The Original Jones bag comes with a 3 way divider on its well proportioned 7.75" diameter top. Carrying a full complement of 14 clubs, including bulky head covers, was easy and stress-free. Clubs were well organized and pulling the club out of the bag and replacing it after your shot was simple and hassle free, something that should be a basic requirement of any dependable carry bag.
The two front zippered pockets offer plenty of room for balls, tees, gloves etc. as well as a GPS. The outer full body pocket was roomy enough for a full rain suit without being bulky or cumbersome. The bags ingenious design is reflected in the fact that every pocket is available to be at your finger tips while walking down the fairway (bag to be worn backwards). The full length umbrella holder is a nice touch, keeping the umbrella tight and secure during the whole round. Not once did it fall out of or become dislodged from its sleeve — something that I have frequently experienced with other bags.
embedded by Embedded Video


One of the basic principles of modern design is that "form follows function." Jones Golf bags delivers on this and more. Its elegant and timeless design combined with modern day technologies recalls a bygone era when golfers enjoyed a leisurely round of golf by walking. Welcome back Jones Golf Bags.
Jones Golf Bags, starting at $129, are available at www.jonesgolfbags.com and select green grass and resorts nationwide. Customization options are available.
Under Armour Golf's Newest Shoe Delivers Golfers Total Comfort and Powerful (shared from GolfPunk) Whether...
Shared from TrendyGolf Magazine Scottish heritage brand Lyle & Scott has launched a new...