One of Sweden's oldest golf clubs, Falsterbo was founded in 1909 in a small village on the tip of a scenic peninsula south of Malmö. Occupying a thin strip of linksland where the Öresund meets the Baltic Sea, members originally golfed on a nine-hole layout designed by Copenhagen Golf Club's professional Robert Turnball around the area's lighthouse. In 1930 the course was extended to eighteen holes by a local medical practitioner who kept Turnball's excellent 7th and 14th holes, but otherwise fashioned an entirely new links on the low-set, bumpy terrain.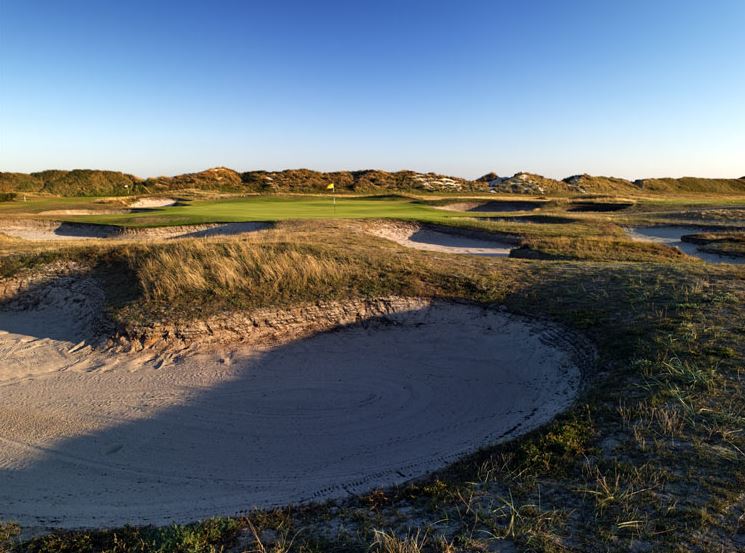 Occupying one of Europe's windiest golf locations, the flat ground is totally exposed to the elements and located within a native reserve frequented by bird watchers who flock to the area in their thousands during Autumn to witness the bird migrations. Protected from the water by a moderate dune ridge, the layout features several marsh areas left by the receding sea and boasts a number of decent holes, starting with the medium length par four 4th played along the wetlands to its peninsula green.
The partially hidden one-shot 8th and demanding driving holes at 9 and 12 across hazards are also solid. As is the finishing stretch, starting with the long par three 14th, which heads toward the lighthouse and over a huge bunker that hides its receptive green complex. Both the 16th and 17th are classic right-bending par fours that reward those driving close to the inside sand traps, while the 18th is a reachable par five along the dunes where a wild slice could actually end up in the Baltic Sea.
Although a recent greens and bunker restoration program by Peter Nordwall and Peter Chamberlain has successfully improved previous areas of concern here, course conditioning still remains very hit and miss. The links though is a stern test and for all its quirk Falsterbo is quite a memorable experience. (source) Photo © David Scaletti