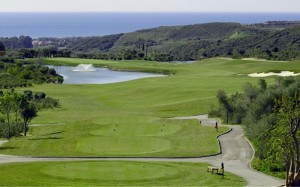 Designed by Cabell Robinson at 6800 meters with 18 holes and more than 100 bunkers, Finca Cortesin is one of the finest golf courses in Spain. Players have magnificent views of both the mountains and the sea. It's a highly enjoyable course for beginners and can be a serious challenge for pros. It has several tee boxes on each hole, keeping the difficulty of the course in balance offering great variety for all levels of player. When you finish playing all 18 holes, you'll notice that you have played all your clubs.
Cabell B. Robinson is recognised as one of Europe's top golf course designers. He was born in Washington DC in 1941, but has spent the greater part of his professional life in Europe. He is a historian by qualification, with a degree in History from Princeton (1963), and postgraduate studies in Landscape Architecture in Harvard and Berkeley (1967).
His early career was with the famous American designer Robert Trent Jones, who is responsible for some of the top golf courses in Spain.
For 17 years, Robinson was in charge of his design and construction companies on this side of the Atlantic, but in September 1987, Robinson decided to leave the Trent Jones studio and set up on his own operation. In only two months he was working on major projects on the Costa del Sol and in the South of France. (Source:www.fincacortesin.com)