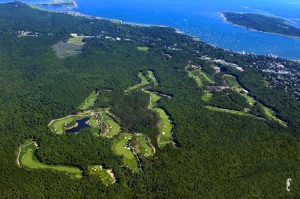 The Bay Club at Mattapoisett is a private golf and lifestyle community on 625 rolling wooded acres near the shores of Buzzard's Bay (close to Cape Cod) . Member-owned, the club is built around a Brad Faxon-Brad Booth championship golf course and also features racquet sports, gourmet dining and many other athletic and cultural pursuits all within its gates.
The par 71 golf course plays to 7,068 yards from the championship tees, par-71. It is best described as a classic parkland layout with old-fashioned square tee boxes, push-up greens and strategic bunkering. It features close to 100 bunkers and at least four sets of tee markers on each hole.
At a pond-view location between the ninth and 10th holes is the club's popular Halfway Café. For golfers, it's a traditional refreshment stop midway through an 18-hole round. For other members, it's a place to relax with lunch or a snack and enjoy the panoramic views.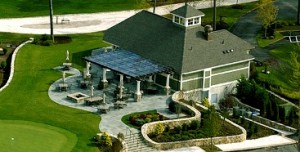 The course has also received the prestigious Silver Sanctuary Rating from Audubon International, which community executives say, "reflects the members' love of nature and respect for conservation practices in maintaining the course."
The club's Sports and Activities Center, opened in 2005, is a 10,000-square-foot facility with a year-round fitness center, aerobics room, locker rooms with steam. There are meeting rooms to accommodate the many cultural activities at the club with a demonstration kitchen where visiting celebrity chefs share their cooking skills, after which they prepare a special dinner in the Golf House restaurant.
Situated on the beautiful North Antrim Causeway, Northern Ireland, the Royal Portrush Golf Club...
New event and dynamic Beach Golf features a playground unique and original. Factors relating...