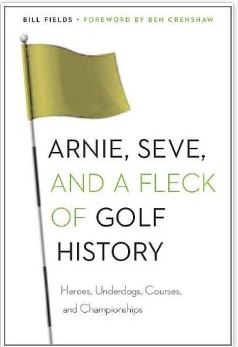 In a long, award-winning career writing about golf, Bill Fields has sought out the most interesting stories—not just those featuring big winners and losers, but the ones that get at the very character of the game. Collected here, his pieces offer an intriguing portrait of golf over the past century.
The legends are here in vivid profiles of such familiar figures as Sam Snead, Arnold Palmer, Mickey Wright, and Tiger Woods. But so are lesser-known golfers, like John Schlee, Billy Joe Patton, and Bert Yancey, whose tales are no less compelling.
The book is filled with colourful moments and perceptive observations about golf greats ranging from the first American-born U.S. Open champion, Johnny McDermott, to Seve Ballesteros, the Spaniard who led Europe's resurgence in the game in the late twentieth century. Fields gives us golf writing at its finest, capturing the game's larger dramas and finer details, its personalities and its enduring appeal.
Publication Date: June 1, 2014 (source)
About the Author

A senior editor at Golf World magazine, Bill Fields is a four-time winner of the Golf Writers Association of America's annual writing contest. His work has also appeared in Golf Digest, the New York Times, and The Best American Sports Writing.
""Golf and Philosophy succeeds admirably in demonstrating how philosophy can shed light on an...
Few golf fans know the name Homer Kelley, writes Gummer, an acclaimed golf writer...