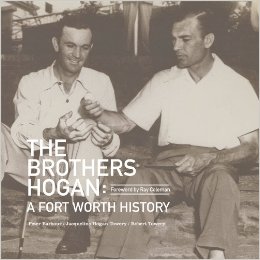 The Brothers Hogan: A Fort Worth History is a unique family portrait of one of golf's greatest legends. Lavishly illustrated with never-before-seen family photos, The Brothers Hogan follows the lives of Ben Hogan, winner of sixty-eight tournaments and nine major championships, and his brother Royal, who climbed the ranks of top amateur golfers even as his brother Ben became one of golf's most successful pros.
Narrated by Royal's daughter Jacque, Ben's niece, this revealing biography not only tells the story of Ben's and Royal's remarkable careers but also sets the record straight on the shocking suicide of the boys' father, on Ben's strained relationship with his wife Valerie, on the car crash that nearly ended Ben's career, and on scores of details that have been misconstrued in earlier accounts.
The rise of Colonial Country Club and its legendary course—forever nicknamed "Hogan's Alley"—and the rise of modern Fort Worth are part of the narrative as the Hogan boys and their city grew up together. Major Fort Worth leaders such as Tex Moncrief, Amon Carter, and  Marvin Leonard, the visionary who built both the Colonial and Shady Oaks courses, figure prominently in the book. (source)
Publication Date: May 9, 2014
About the Author: Peter Barbour, an Austin native, was a producer in Los Angeles until retiring in 2002. JACQUELINE ("Jacque") HOGAN TOWERY is the daughter of Royal Hogan, Ben Hogan's older brother. The late ROBERT TOWERY worked for the State Bar of Texas, where he instituted the first Legal Assistants Division in the country.