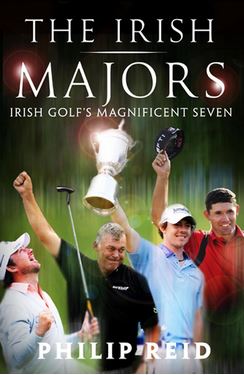 When Padraig Harrington won the Open Championship in 2007, it was the start of the most glorious period in the history of Irish golf. Harrington retained the coveted Claret Jug in 2008 and added the US PGA championship. In 2010, Graeme McDowell won the US Open and was succeeded as champion in 2011 by the phenomenally talented Rory McIlroy.
The remarkable run of Major champions from Ireland was continued that season when Darren Clarke claimed an emotional victory in the British Open, and most recently by Rory McIlroy who in 2012 also struck gold in the US PGA. The Irish Majors is the story of these great victories and of the background to Ireland's golden generation of golfers.
"….best Irish golf book in years. Wonderful!"- Deric Henderson (Editor Ireland, Press Association)
"….this book captures each and every Major win by this golden generation of Irish golfers in a style that brings you to the heart of the action." – Greg Allen (RTE Radio golf commentator)
"…an essential addition to the library of any sports lover." – Brian Keogh (Irishgolfdesk.com)
"…the complete record of what has undoubtedly been the Golden Age of Irish golf" – Ivan Morris (Limerick Leader)
Publication date: July 18, 2013 (
source
)
About the Author

Philip Reid is golf correspondent with The Irish Times. He is Secretary of the Irish Golf Writers' Association and is also a committee member of the UK-based Association of Golf Writers. He lives in Dublin.
MasterCard Tee Box – Four regular golfers are so thrilled to be playing TPC...