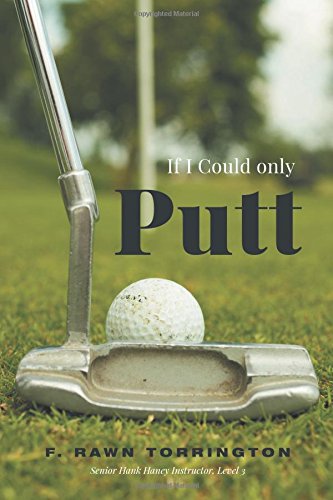 So, you miss the sound of the golf ball rattling in the bottom of the cup. Well, this book will help you discover how to become a great putter.
Sound too simple to believe? Many may indeed dismiss this manual as being just that, however, there are reasons why this simple putting process has been hidden away from us for so long.
This step by step guide will begin by examining your strengths and weaknesses of the game, and trace the foot prints that lead to putting excellence. If I Could Only Putt is a reliable, descriptive handbook that focuses primarily on golf's most demanding effort.
It is a chronicle that defines the powers and strengths possessed by all golfing enthusiasts and spells out the process that matches these traits to the act of putting the golf ball.
This book also tackles the most feared and dreaded affliction to the game of golf-the putting yips. Finally, the remedy to the putting yips will be revealed.
The Author, Rawn Torrington, relays a simple yet effective and understandable process that will allow golfers to make the putts that have eluded them for so long. Putting is an art. Possessing the ability to putt at the summit is what distinguishes good golfers from great golfers. If I Could Only Putt will surely elevate all golfers to be great putters.
Publication date: June 18, 2015 (source)
Author: F. Rawn Torrington