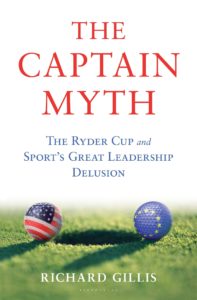 The War on the Shore, the Battle of Brookline, the Miracle of Medinah–the Ryder Cup inspires such nicknames, and is golf's version of an all-star game and one of international sports' most intense, high-profile tournaments.
For almost ninety years, the biennial men's golf competition has been a key symbol of the game, knitting together the sporting cultures of the U.S., the UK, and continental Europe, and inspiring an intense rivalry among professional golfers and a passionate following across the globe. Purportedly in charge of the two teams are the captains, whose reputations are shaped forever by the results of the twenty-eight matches held over three days.
In his seminal exploration of the world of the Ryder Cup, Richard Gillis explores what it takes to win this coveted trophy. Accustomed to playing for and winning large sums of money, the twelve players on each side are paid nothing for this competition; instead they play for national pride alone.
Even more, in this singularly individual sport, fierce competitors such as Jordan Spieth and Phil Mickelson, or Rory McIlroy and Jason Day, must act as a team. Having consulted leadership gurus, team building experts, and sports psychologists, and exploring the often surprising roles played by some of the game's greatest stars since the first match in 1927, Gillis has written a book of probing and insightful analysis that every fan of golf will want to read as the 2016 Ryder Cup unfolds.
Publication date: September 6, 2016 (source)
About the Author

Richard Gillis is an award-winning journalist working for several of the world's leading newspapers and publications. Formerly editor of SportBusiness International magazine, he then became Cricket Correspondent of the Irish Times. He now lives in London, where he is a columnist and feature interviewer for the Irish Times and writes about sport, business and the media for the Wall Street Journal, alongside media and communications consultancy work.
Briny Baird, Annika Sorenstam and Don Vickery attempted the ultimate golf challenge Monday, June...
Climb the ladder to achieve one-putts by choosing the right putter, achieving an immaculate...