Charles Lindsay's photographs offer a humorous and inquisitive foray into the hazards where golf balls are lost–rough, woods, bunkers, and wetlands–as well as unexpected encounters with wildlife on and off the green. An avid golfer with plenty of experience losing balls, Lindsay photographs his way to the heart of the game with a light touch and an eye for telling details. In the process, he discovers balls ravaged by golfers, gators, and foxes–and lost for over a century.
Lindsay even encounters what is believed to be the world's oldest golf ball–unearthed in a cellar in the Netherlands alongside a primitive club.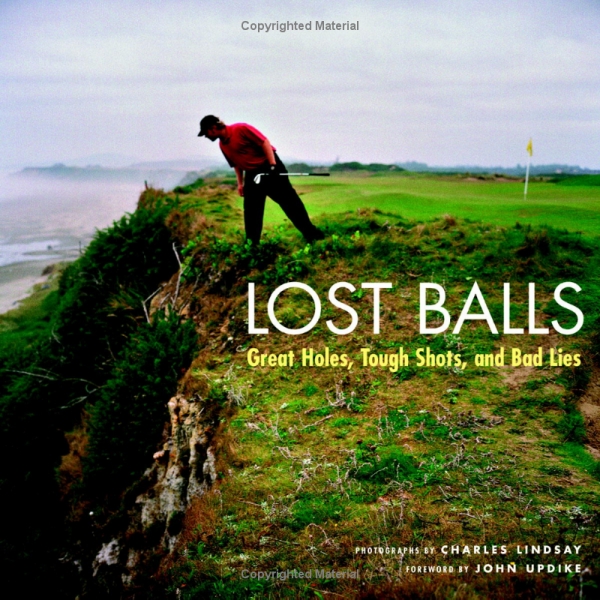 The photographs were taken at celebrated courses in North America, England, Scotland, and Ireland: Pebble Beach, Bandon Dunes, Bethpage, Fossil Trace, Troon, St. Andrews, Royal St. Georges, Ballybunion, Old Head, and many others. The foreword by John Updike is a celebration of golf and nature and where the two meet. A humorous story by golf giant Greg Norman rounds out the book.
Charles Lindsay's photographs have appeared in numerous international publications including The New York Times Magazine, Blind Spot, Aperture, Natural History, Gastronomica, Audubon, Parabola, Orion, Big Sky Journal, Men's Journal, Golf, Sports Illustrated, and GEO. His work has been published in dozens of Japan's leading magazines. He has been profiled on National Public Radio, CNN International and NHK Japan in a one hour television documentary.
Lindsay has lectured at the American Museum of Natural History, The Summit Photo Workshop, Jackson Hole, Wyoming, Mountain Film in Telluride, Pratt School of Art and Design in New York and at The Open Center in New York. Recently he spoke with Art International Radio, (ARTonAIR.org) about The Edge of Vision exhibition at Aperture. (source)
The Royal Liverpool Golf Club is a leading golf club in Merseyside in North...
Michael Murphy was on his way from California to India when he met Shivas...