Mental Rules for Golf unlocks many of the secrets of golf's mental side by showing how the likes of Tiger Woods, Annika Sorenstam, and Jack Nicklaus have built their success on great thinking as much as on great swings.
Among the book's 65 mental strategies are the Einstein Factor, Finding the Zone, Are You a Hogan or a Trevino?, Fail Forward, Annika's 54 Vision, and Wear the Red Shirt. Although numerous books have been written about unlocking the mental secrets to the game, many pieces to the golf puzzle are still missing. With its 65 concise and easily applied strategies, MentalRules for Golf helps fill that gap by illustrating how the game's greats past and present use their minds to play their best golf.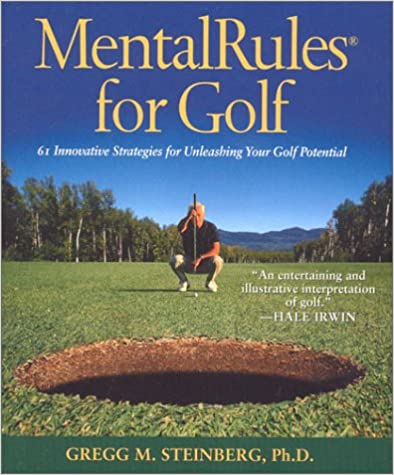 MentalRules for Golf is the consummate golf psychology book. It will boost your confidence, relieve your pre-shot anxieties, and fine-tune your concentration levels. Every strategy can be used as a daily refresher course for improving your attitude and mental approach, ultimately lowering your scores while making the game more enjoyable.
About the author – Dr. Gregg Steinberg is a distinguished speaker in sport psychology and has given presentations on this topic throughout North America. He has published extensively in academic sport psychology journals such as The Sport Psychologist and The International Journal of Sport Psychology. He is author of the well-respected sport psychology book, MentalRules for Golf. Dr. Steinberg has also written performance enhancement articles for newspapers, and sport magazines. Currently, he is an Associate Professor of sport psychology at Austin Peay State University in Tennessee. He is also the head sport psychologist for the United States Golf Teaching Federation. Dr. Steinberg has been a sport psychology consultant for more than ten years and has worked with many professional and college athletes
(source)
Meet a knight to remember, a multi-sport leprechaun, a camera-friendly Yeti, a swinging Scot...