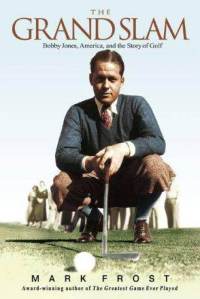 Before Arnold, Jack and Tiger, there was Bobby. After winning the Grand Slam of golf in 1930, Jones stood like a colossus over the American sporting scene. He is the only individual to have been recognized with two ticker tape parades down Broadway's Canyon of Heroes. Frost (The Greatest Game Ever Played) has written a swift, surefooted account of Jones's remarkable life and career. From Jones's precocious early days on the Atlanta links to his sudden retreat from the media spotlight, Frost covers every detail. The self-taught Jones began playing serious tournaments at 14 and quickly moved into the ranks of the world's best players. In 1930, he won the four major tournaments of the time: the British Amateur, the British Open, the U.S. Open and the U.S. Amateur, which sportswriters dubbed the Grand Slam.
Following this success, Jones promptly retired. Later diagnosed with a rare nerve illness, he lived out his life as golf's elder statesman. While Frost's eager prose has an engaging, "you are there" quality, for nongolfers the question is whether they actually do want to be there. Frost strains to place Jones's achievement in the broader context of American history. As bedside reading for the literate duffer, this is a hole in one. For the average reader, it's a bogey. (source)
About the author
Mark Frost is the bestselling author of The Greatest Game Ever Played, The Grand Slam, and the novels The Second Objective, The List of Seven, and The Six Messiahs. He received a Writers Guild Award and an Emmy nomination for the acclaimed television series Hill Street Blues, was co-creator and executive producer of the legendary ABC television series Twin Peaks, and in 2005 wrote and produced The Greatest Game Ever Played as a major motion picture from Walt Disney Studios. Mark lives in Los Angeles and upstate New York with his wife and son.
The Bombardier; Bedford's finest, likes to relax after a hard day's battle with a...