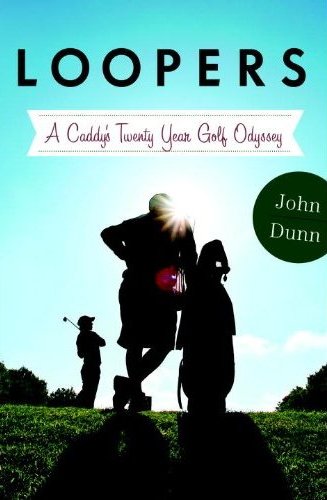 Destined to become a classic of golf writing, Loopers is a treasure of a memoir about the uncommon world of the  club caddy and the improbable journey it resulted in for one man.  It is a perennial account that touches on the animating force of the game itself, reminding us of the reason we continue to tee the ball up, year in and year out.
John Dunn never expected that his summer job as a caddy at the local course in Connecticut might turn into something more. The lifers – as in "caddies for life" – that plied the loops were an ensemble of misfits and degenerates that made the caddy yard look more like an OTB parlor than anything near a country club.  But Dunn came of age in those yards and on those courses, and after an eye-opening experience caddying in Aspen during college the magnetism of the game and the lifestyle proved irresistible.
One adventure after another kept him coming back summer after summer, until – out of college – he found himself migrating with the seasons, looping at some of the most exquisite and exclusive golf locations in the world; Sherwood, Augusta, Bandon Dunes, Shinnecock, and St. Andrews to name a few.
Dunn criss-crossed the country on his own big loop; working inside the privet hedges while camping on the mountains; following the back roads and stumbling across unexpected moments of profound natural beauty; embracing the freedom of what he calls the last vagabond existence in America, all while trying to decide whether to quit the loop and get a real job. Maybe next season…
Release date: May 14, 2013 (source)
About the author
John Dunn is a writer whose work has appeared in number magazines including The Golfer and Travel and Leisure Golf.   For twenty years he worked as a caddy at golf courses around the world.  His "research" for this book was collected over the years on courses and beaches and in bars all across the country and abroad.
"Weird Facts About Golf" is a funny and perceptive book about the strange, wacky...