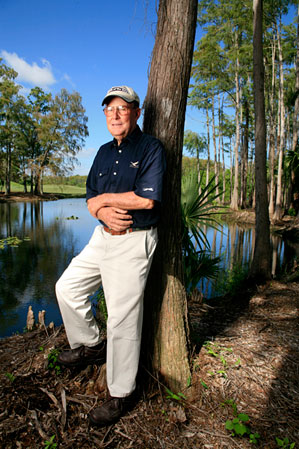 Paul ("Pete") Dye, born December 29, 1925 in Urbana, is a legend in the field of golf course design and construction throughout the expanding world of golf. Considered in many circles to be the most influential golf course architect of the last five decades, Pete is now in his mid 80's and still designing golf courses.  Pete comes by his career naturally.  His father designed and built a nine-hole golf course on his mother's farm in Urbana, Ohio, and Pete grew up playing and working on this course.  He won the Ohio State High School Championship and was medalist in the Ohio State Amateur.
World War II interrupted his high school education and Pete served in the 82nd Airborne Infantry of the United States Army.  Upon his discharge, he attended Rollins College where he met Alice O'Neal. He started his golf career and won the 1958 Indiana State Amateur Championship after a runner-up finish in 1954 and 1955. He also won the Indianapolis District Championship, participated in The Western Amateur and five USGA Amateurs, and played in the 1957 United States Open where he finished ahead of both Arnold Palmer and Jack Nicklaus.
Although he was a champion golfer, Pete's interest was really in the design and maintenance of a golf course.  He decided to leave the life insurance business to devote his time to designing and building golf courses.  Pete and his wife Alice began their carrier by building a nine hole course just south of Indianapolis called El Dorado, now titled Royal Oak Country Club.  Accomplishing this feat, they built their first 18-hole course, Heather Hills, now named Maple Creek Country Club.
In 1963 a trip to Scotland profoundly impacted Pete's subsequent designs.  Touring the great Scottish courses, he was influenced by the features he saw  small greens, pot bunkers, undulating fairways and wooden bulkheads.  He began incorporating these concepts into his designs.  This, in turn, influenced future golf architects and Pete has been hailed as the father of modern golf course architecture.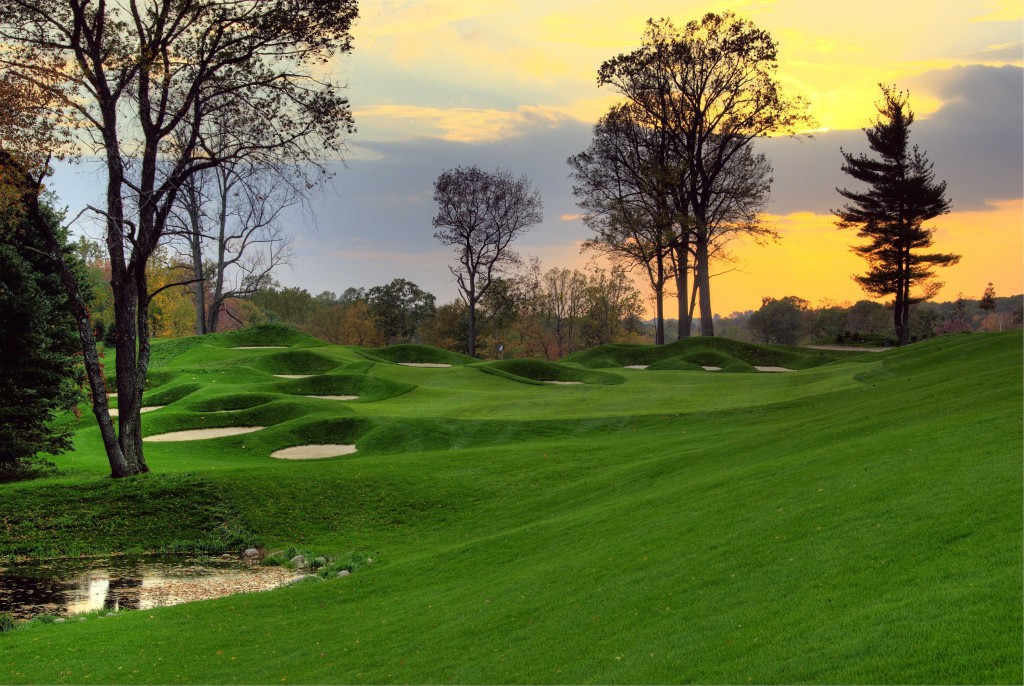 Pete is also acclaimed for his innovative, environmentally friendly designs.  He lent his expertise in the renovation of the Kampen Course of Purdue University's Brick Boilermaker Golf Complex.  The Kampen Course incorporates Pete's drainage and irrigation designs and wetlands areas that help recycle and purify water that drains onto the course.  The course additionally serves as a living laboratory, combining turfgrass research and environmental studies. Pete was honored by the World Golf Hall of Fame in 2008 with the lifetime achievement award.  He is only the 5th architect to be inducted to the Hall. source…
Dave Thomas was born in Newcastle upon Tyne, England on 16 August 1934. He...