Every sport has its own lingo and golf is no different, however the difference between what you say and what you mean can sometimes be worlds apart:
"I CAUGHT IT A FRACTION SKINNY"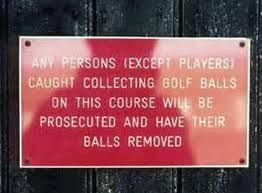 What it means: I thinned the ball slightly and it came up a bit shorter than I hoped.
Reality is…My ball took off like an exocet missile, going no higher than three-feet from the truf while I hopped around like a maniac wildly shaking my hands to get rid of the pain!
"I'VE BEEN DROPPING BOMBS OUT THERE"
What it means: My putter is hot and I holed several putts over 20ft.
Reality is…For the first time in living memory I holed a putt over 15-foot and if I'm brutally honest it was speeding quicker than an F1 driver and I had my eyes closed!
"I'VE BEEN WORKING ON MY CORE STRENGH"
What it means: I've been in the gym two hours a day. Mainly doing weights and stability.
Reality is…I could clear a bathroom at a stadium with the bout of bad gas I've had recently!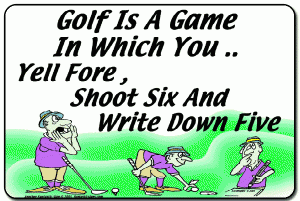 "I'M MENTALLY EXAUSTED"
What it means: I've been concentrating non-stop for five hours a day in 90F heat.
Reality is…I'm 12-over after four holes!!!
"HOW DID THAT STAY OUT?"
What it means: A clear break in the green failed to move my ball as it should and it skirted the edge of the cup by a gnat's pube breadth.
Reality is…I overhit the putt with the strength of a thousand men, two-feet wide of the target!
(source: GolfPunk International magazine, GP148)
This book is the most comprehensive guide to improving your Golf EVER! A best-seller in...