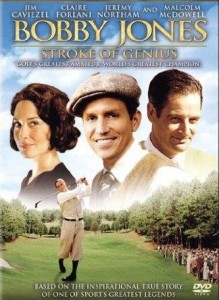 Robert Tyre Jones, Jr., aka "Bobby Jones" rises from complete obscurity to become a golfing legend. Jones overcomes his own fierce temper, intense passion, and perfectionist tendencies to master the game and win the Grand Slam, the U.S., British, and Amateur Opens in golf, a feat unequaled even today.
But it is Jones's style, personality, and character that separate him from the other professionals in his field. When Jones realizes that his unparalleled success may be destroying those he loves he's presented with an astounding proposition, one that shocks the world.
As a tribute to golfing legend, Bobby Jones, this tale of conquering ambition and personal demons to find success on the greens delivers a message about personal victory in a compelling way.
Cast: Brett Rice, Claire Forlani, Connie Ray, Jeremy Northam, Jim Caviezel, Malcolm McDowell
Year: 2004
embedded by Embedded Video


Nice gift from friends, he wont need to buy golf balls for the next...