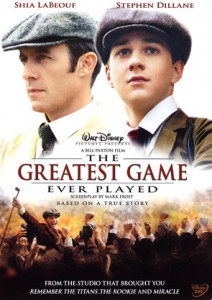 The true story of an upset victory that helped change the sport of golf forever provides the basis for this period drama. Francis Ouimet (played by Shia LaBeouf) was born in 1893 to a working-class family in Massachusetts, and grew up fascinated by golf. However, at that time golf was considered a pastime of the wealthy and privileged, and British and Scottish players dominated the professional game.
Ouimet's familial home was near the Brookline, MA, Country Club, and over the stern objections of his father, Francis got a job there as a caddy. Honing his skill in his spare time, Francis displayed a tremendous natural talent for the game and an understanding of its strategies, and 1913 he became the first amateur to play in the U.S. Open, held at the Brookline Country Club. Ouimet's presence was considered little more than a novelty at the time; Harry Vardon (Stephen Dillane), a British champion with six tournament victories under his belt, was considered a shoo-in to win, with Ted Ray (Stephen Marcus) his only serious competition.

However, Vardon, a fellow working-class boy who had overcome tuberculosis to become Britain's premier professional golfer, had more in common with Ouimet than anyone expected, and the tournament unexpectedly became a hard-fought competition between an established star and a promising unknown. Directed by Bill Paxton in his second directorial effort, The Greatest Game Ever Played also stars Elias Koteas as Francis' father, Josh Flitter as the ten-year-old boy who becomes Francis' caddy, and Peyton List as Sarah Wallis, Francis' sweetheart. (source)

Year: 2005
embedded by Embedded Video


A typical 18-hole golf course produces enough oxygen to support 4,000 to 7,000 people....
One of Golf Digest's 10 Best Teachers in America (No. 7) helps you master...