Shared from TrendyGolf Magazine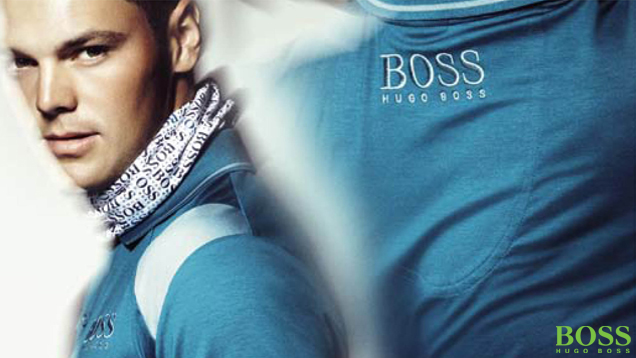 The new Autumn and Winter Collections from Hugo Boss are finally here, and with them come a different layout of fresh season trends.
Most golf fashion brands work on producing two collections per annum, which are usually labelled Spring/Summer and Autumn/Winter. However, Hugo Boss have opted for a slightly different approach this year and have produced individual collections for each season. What's great about this change in direction is that the collections are constantly updated, allowing room for new colour pallets and fresh designs, all set to keep you fashionistas on trend.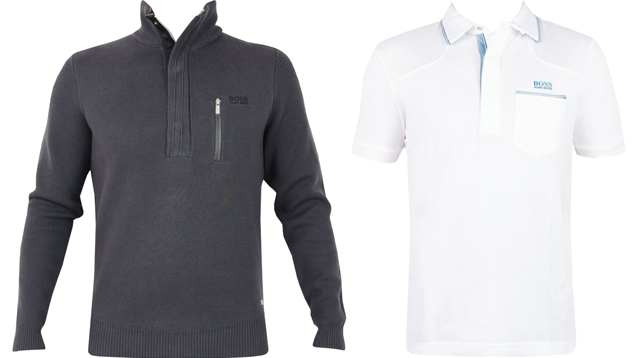 The latest releases for Autumn consist of two separate collections: BOSS Green and BOSS Pro, and we'll begin by exploring BOSS Green…
A playful blend of styles and inspirations. BOSS Green provides fashion driven sportswear for a leisure lifestyle as well as technical pieces for on-course wear, making it one of this season's hottest brands. A colour pallet focusing on blues, greens, purples and reds, alongside natural tones of white, black and grey, can be identified throughout the collection.
Boss is renowned for its subtle attention to detail and this season is no different. From striped polos to tipped collars, cuff and chest pockets and their sophisticated branding, there is plenty to choose from.
Meanwhile, the BOSS Pro collection continues to offer outstanding performance clothing for the ultimate fashion conscious golfer, who craves coordinated style on the first tee. Taking a more technical route compared to the leisure-centric BOSS Green, the Pro collection essentially adheres to a high fashion aesthetic, but also maintains its status as one of the most technically advanced collections in golf.
From the water resistant material used in their knitwear and the UV protection of their polos to the breathable performance of the trousers, BOSS Pro is designed for golfers who demand the best from their on course attire. All branded with the BOSS Tour logo which is predominant on the chest of shirts and knits and located on the back pocket of trousers and shorts, this clothing range oozes style and class, as seen on the likes of top Tour pros Martin Kaymer and Nick Watney.
Each Hugo Boss pant, whether it's from the BOSS Green or BOSS Pro collections, comes with the quality you'd expect from this fashion powerhouse. Take the Pro pants, for example. They're made from a moisture wicking material that will keep you cool on those ultra hot days, yet are still heavy enough to keep you warm when the nippy breeze picks up. Elsewhere, the water repellent material keeps the wearer dry during any unexpected showers, effectively moving moisture away from the body. As far as technical pants go, these are in a league of their own.
From the BOSS Green collection, check out the latest pant, which serves as more of a course-meets-street chino. With its subtle Hugo Boss detailing and dynamic slim cut, it sits equally perfectly over your golf shoe or a plimsol off the course. Turn these up for an on-trend chino look.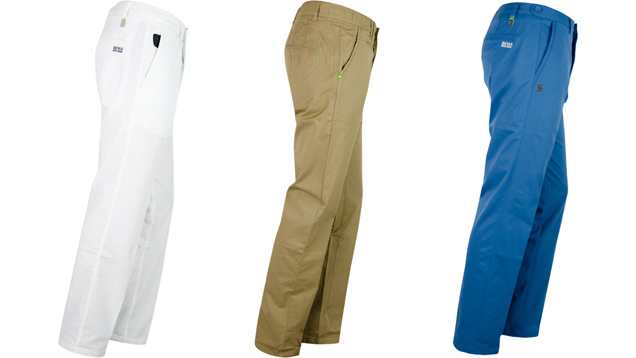 What collection would be complete without accessories? And no one does the little extras better than Hugo Boss. Offering a wide range of additional items ideal for the golf enthusiast – from an iPad case to a luxury holdall – Boss doesn't miss a trick. For the travelling golfer there is a wash bag, a weekend holdall and the messenger bag (pictured).  For those who always want to be up-to-date with the latest trends, there are the Black Sunday golf shoes and an array of belts and caps, all made from the finest materials with the trademark branding we all know and love.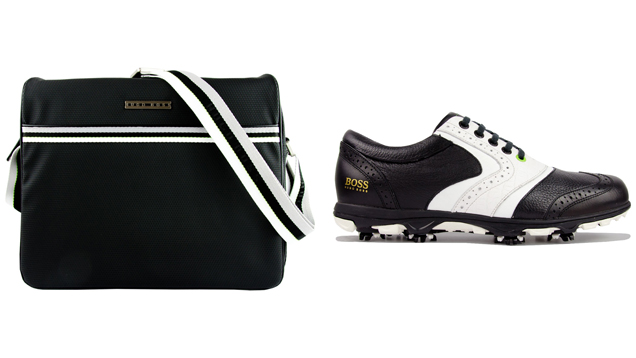 Why not take a look at the very latest from Hugo Boss online at TrendyGolf now. These latest innovations will make sure you keep your wardrobe up-to-date and have your playing partners gazing with envy this weekend!
In the mean time, check out this behind the scenes video from the BOSS Green Fall 12 Photo Shoot with Martin Kaymer…
embedded by Embedded Video