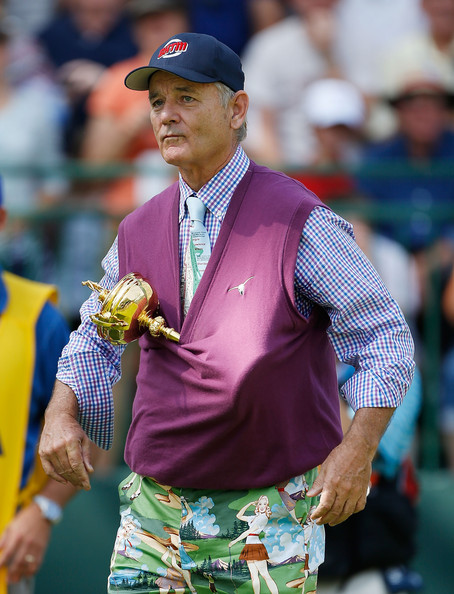 There are some great lines from movies. Lines that stick in your head. Lines that you hear and you can immediately identify the film from which they came.
We love the movies. We also love golf. So we decided it might be fun to put the two together.
We have taken some classic one-liners and put them in the mouths of some players who just might have uttered the self same words. We have also given reminders of which movies they came from and who originally said them.
Tiger Woods: "I'll be back." (Arnold Schwarzenegger, Terminator)
John Daly: "Of all the gin joints in all the towns in all the world, she walks into mine."
(Humphrey Bogart, Casablanca)
Phil Mickelson upon seeing his coach's newly-designed golf course: "Do you think you used enough dynamite there, Butch?" (Robert Redford, Butch Cassidy and the Sundance Kid)
Rory Sabbatini shakes his playing partner warmly by the throat: "Go ahead punk, make my day." (Clint Eastwood, Dirty Harry)
Jack Nicklaus, upon realizing that Tiger Woods might beat his record of 18 major titles: "I'm gonna make him an offer he can't refuse." (Marlon Brando, The Godfather) 
John Daly: "You don't understand! I coulda had class. I coulda been a contender. I could've been somebody, instead of a bum, which is what I am." (Marlon Brando, On The Waterfront)
Victor Dubuisson realises he has hit the big time: "Toto, I've got a feeling we're not in Kansas anymore." (Judy Garland, The Wizard of Oz)
Any golfer on the PGA Tour aged 25 or over, talking to Jordan Spieth: "Here's looking at you kid." (Humphrey Bogart, Casablanca)
The impossibly good-looking Adam Scott: "All right, Mr. DeMille, I'm ready for my close-up." (Gloria Swanson, Sunset Boulevard).
Voice heard by Pete Dye as he designed yet another difficult golf course: "If you build it he will come." (Voice heard by Kevin Costner in Field of Dreams)
Rory Sabbatini to another playing partner: "You talkin' to me?" (Robert DeNiro, Taxi Driver)
"May the Force be with you." The voice Dustin Johnson hears in his head every time he picks up a driver. (Harrison Ford, Star Wars)
"What we've got here is failure to communicate." Yup, it's that man Sabbatini again. (Strother Martin, Cool Hand Luke)
"I love the smell of napalm in the morning." JB Holmes after smoking another 360-yard drive. (Robert Duval, Apocalypse Now)
"Love means never having to say you're sorry." Tiger Woods, obviously. (Ali MacGraw, Love Story)
"Made it, Ma! Top of the world!" Rory McIlroy upon hitting the top of the world rankings. (James Cagney, White Heat)
"I think this is the beginning of a beautiful friendship." Phil Mickelson to Bones Mackay. (Humphrey Bogart, Casablanca)
"I'm as mad as hell, and I'm not going to take this anymore!" Pat Perez misses a birdie putt. (Peter Finch, Network)
"A census taker once tried to test me. I ate his liver with some fava beans and a nice Chianti." You just wouldn't want to be playing with Rory Sabbatini, would you? (Anthony Hopkins, The Silence of the Lambs)
"I am big! It's the pictures that got small." Kevin Stadler. (Gloria Swanson, Sunset Boulevard)
"Show me the money!" Rory McIlroy after signing his Nike contract. (Cuba Gooding Jr, Jerry Maguire)
"I'll have what she's having." Any member of the LPGA Tour talking about the astonishing Lydia Ko. (Estelle Reiner, When Harry Met Sally)
"Badges? We ain't got no badges! We don't need no badges! I don't have to show you any stinking badges!" A steward makes the mistake of asking Colin Montgomerie to show him his ID badge. (Alfonso Bedoya, Treasure of the Sierra Madre)
"I see dead people." Rory Sabbatini's response when asked how he would stamp out slow play.
(Haley Joel Osment, The Sixth Sense)
"Well, nobody's perfect." Yes, Sergio, we agree. (Joe E Brown, Some Like It Hot)
"Houston, we have a problem." Pat Perez misses another birdie putt. (Tom Hanks, Apollo 13)
"Elementary, my dear Watson." Bubba's caddie explains his club choice recommendation. (Basil Rathbone, The Adventures of Sherlock Holmes)
"Hasta la vista, baby." Dustin Johnson sends out another 390-yard drive (Arnold Schwarzenegger, Terminator 2: Judgement Day)
"A martini. Shaken, not stirred." John Daly orders his first drink of the day. (Sean Connery, Goldfinger)
(source)
For the first time in paperback–the book in which America's preeminent designer of golf...