Designed by Arnaud Massy for the Pasha of Marrakech in the 20's,  the Royal Marrakech Golf Club is one of the longest-established in Morocco and since then it has been constantly renovated and improved. Within 15 minutes of the bustling city centre, this par 72 course is one of the country's most celebrated golfing venues.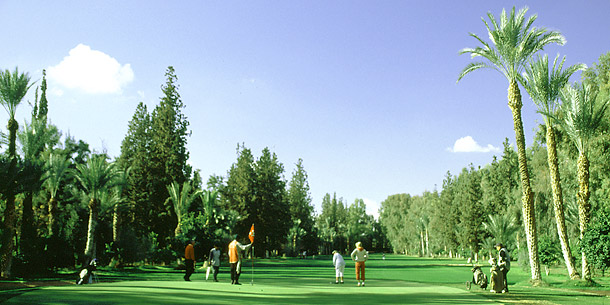 The course was widened to 18 holes in 1993, and 27 holes in 2008. Situated in a fantastic palm grove at the feet of the snowy tops of the Atlas Mountains it is an "English style" course with strategically placed bunkers protecting its greens and testing tall trees and palms with a wide variety of fruit trees the course is rather flat but interesting. Winston Churchill, David Lloyd George and Ike Eisenhower had made their ground of preference.
The course and its unique landscape offers itself as a picture perfect backdrop of snow by the Atlas in winter, contrasting with the purity of a blue sky azure, but do not let the extreme beauty of the course put you off your game.