Shared from Trendy Golf Magazine
Is it fair to say that solid colours will always remain in fashion no matter what the season? These staple items are often the go-to as it is easy to pair with any outfit. However, pulling off a patterned item is bold and portrays the fun, adventurous side of you.
This season, one of the popular trends is pairing different patterns together. One of the most preferred pattern trends on the high street is the check. Whether its a check shirt or pant, these markings come in a variety of styles and colours.
If your style is bold or toned down, fear not, wearing check can be simple for all. Those that opt for a quieter style can adopt check influences in the form of added details such as pockets or more subtle checks like gingham. Those that go all out with their attire can opt for all over check patterns in a number of different colour options.
Check polo shirts work great both on and off the course and here you will see two alternative styles; one showcasing an all over check pattern while the other has it in the details. The contrast in these shirts showcases two different outfit options. But, both of these polo shirts are great outfit starters, allowing you to choose the rest of your items from the Fall color palette.  Therefore, creating a fashionable, on trend look.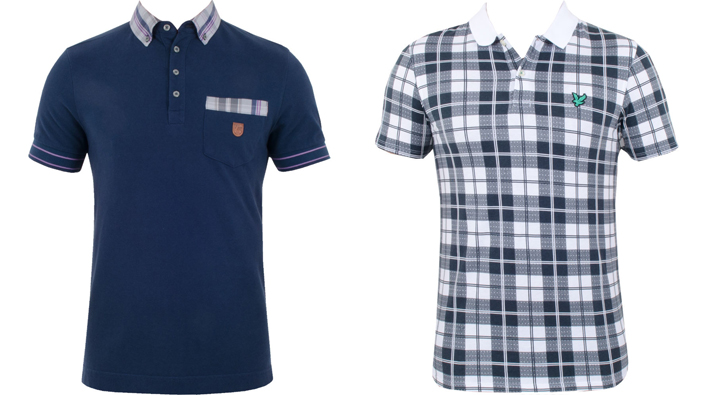 The check shirt is a must-have for any wardrobe due to its versatility. A gingham check shirt is a smart option for a night out or formal event. Pair with a smart pant and a tie/blazer combo and the outfit is complete. The bold check shirt is more suited for a casual affair, maybe a day out or a few drinks with some friends. Wear this with a pair of jeans and some boots, it's that simple!
Check pants can be one of the more daring options for those who don't normally stretch beyond their comfort zone, but now is the time to take that chance! Subtle checks with a solid polo or knit create the perfect balance between fashionable and stylish. Although some may think these are better suited for the course, those among us that like to make a statement can wear check pants off course with ease.
Round-Up
The check pattern can be a great way for you to try something new and branch out from your existing outfit choices. Whatever you normally wear can be paired with a check item without the worry of having an unappealing outfit. Whether you prefer wearing the check pattern off or on the course, we have a variety of options that will make it easy for you to create a trendy look.
Start updating your wardrobe today at TrendyGolf!
__________
Stay Connected with TrendyGolf
Facebook |   Twitter |   YouTube |   Instagram |   Pinterest