On 23 January, Guinness World Records™ was present at the El Camaleón Golf Club, in Mayakoba (Mayan Riviera, Mexico) to Adjudicate the record for the Largest Golf Lesson.  The venue was included within the The Mayakoba Golf Classic that made history when it became the first PGA TOUR event to ever be contested outside of the United States and Canada in February 2007.
The tournament hosted 1,073 people at one of its six monthly sessions of Golf PARa Todos, or Golf FORE Everyone. The four-year golf educational program has been a tremendous success with attendance soaring near 1,000 each session.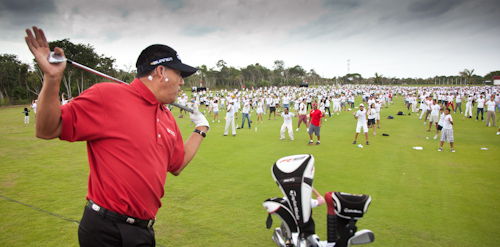 The impressive attendance, witnessed by officials from Guinness, surpassed the old record of 1,032 people recognized by Guinness World Records™ which occurred on October 9 of 2010 at Pine Valley, Beijing, China.
"This was one of the most incredible things I have participated in my career, said PGA TOUR player Esteban Toledo, who conducted the clinic. "I have given golf clinics before maybe 400 people. But never in front of over a thousand people. At one point, I was a little bit nervous because I wanted to make sure we broke the record but also learned something as well."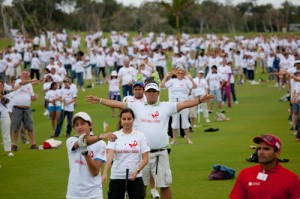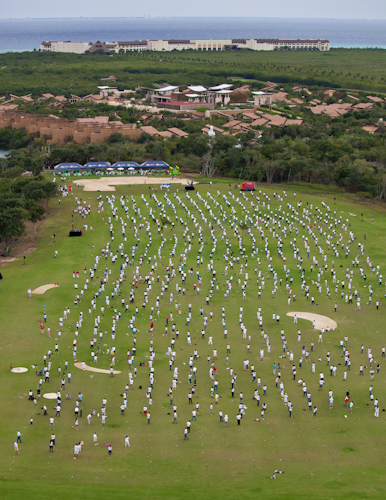 Golf FORE Everyone aims to create a fun-filled, diverse and educational program that teaches about the game of golf and its ideals. The program encourages active participation in the game as a participant and as a fan, and facilitates the integration of golf into the lives of all those within the community. Golf FORE Everyone is a monthly community program presented and created by the Mayakoba Golf Classic in conjunction with El Camaleón Golf Club. It is open to people of all ages, backgrounds and levels of golf skill or knowledge.
Every sport has its own lingo and golf is no different, however the difference...
This links-style course offers many spectacular views. The terrain on the front nine is...