One of the first thing golfers find out is which way round they play. Right or left handed. Naturally, this feeds into the equipment they need to play the game.
This used to stop at the clubs they put in their bags or the gloves they wore. Not any more.
Adidas Golf is breaking ground with the Asym Energy Boost shoes that come in both right and left handed options because of the very different roles the front and back feet play during the golf swing.

Extensive research utilising the latest biomechanical equipment means that Adidas has been able to analyse how footwork impacts the golf swing, including weight transfer, stability and power.
Heat map and force plate studies, that track the pressure applied to the ground throughout the movement of the swing, showed how different the vertical and horizontal pressures are for each foot. Adidas realised that there was incredible scope for utilising this information and making the design of the front and back foot shoes different to maximise performance.
As Masun Denison, Director of Global Product Marketing Footwear at Adidas Golf, explains developing the shoe was not straightforward:
There is a reason no other brand has brought a fully asymmetrical shoe to market. It was a challenging process that involved a lot of additional research and much more design and development. Once we saw the advantage this product could offer and being the performance and innovation leader we are, we felt it was our duty to bring it to golfers of all skill levels.
The Asym Energy Boost differs in a number of places between the front and the back feet. On the sole of the shoe Adidas's gripmore cleats in a variety of sizes have been distributed in individual patterns to provide stability, grip and performance throughout the swing.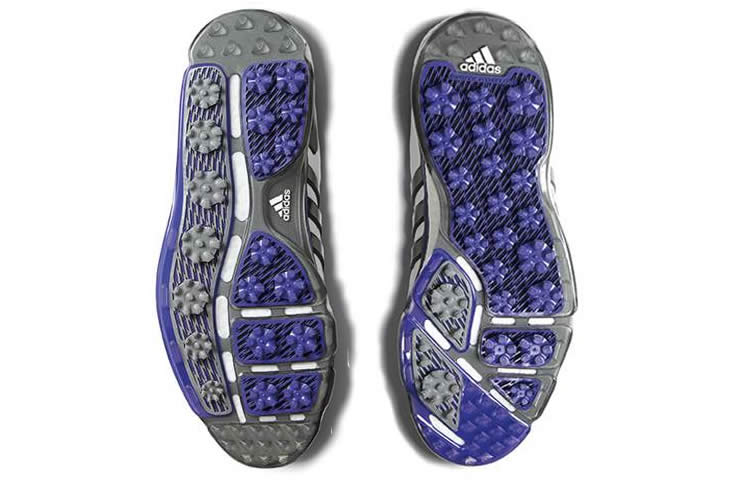 The midsole features a full-length Boost foam layer that provides exceptional comfort and energy transfer back to the feet.
Finally, an asymmetric upper has been designed to harness the power of the swing and promote footwork through an energy sling that helps guide energy transfer and prevents power being lost through inadequate traction and support.
The Asym Energy Boost will be available in two colourways for right-handed golfers (Black/Dark Silver/Bold Orange and White/Core Black/Night Flash) and in one colourway for left-handed golfers at an RRP of £199.99. (source)