Carbrook Golf Club is a golf course located on the banks of the Logan River south of Brisbane, Australia, while shark sightings on the Great Barrier Reef are certainly an expected thing, golfers are now spotting them with increasing frequency some 10 miles inland from the 15th fairway at Carbrook Golf Club.

Apparently, when the nearby Logan River flooded the course in the early 90s, it carried varieties of fish and even some young sharks along for the ride. Now, the course's lakes are home to these stranded species and, given the rise in fin spottings, the bull sharks are thriving and multiplying, giving new meaning the term "water hazard."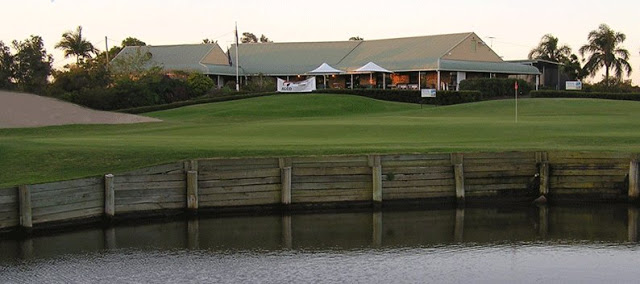 The layout around the wetlands is very good with some par-4′s not to be missed. Just be careful if you hit wayward shots out here. The sharks in the water hazard have proven to be 100% true.