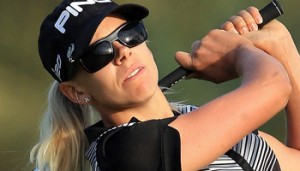 (Shared from birdieable by Rob West)
Protecting your score is not the only asset we strive for when playing golf, your eyes are pretty important too. Golfing in sunny conditions is to me, nirvana however blocking out harmful UV rays, is only one consideration when buying golf sunglasses. Not all sunglasses are created equal, and so picking the right shades for the right conditions will affect your ability to make better judgements.
For example reading greens through some lenses is particularly hard, and knowing what works best for you is an important consideration when making your choice of eye-wear.
Lets take a look.
Best for reading greens
Nike Golf X2 Pro $182.00
The hard core critics claim polarized lenses are not the best for reading greens, as they are designed for combatting reflective surfaces like water. In tests, purple lenses seem to be the most effective at delivering depth in contrast to a white ball on a green surface. My choice in this category therefore would be the Nike Golf X2 pro.

Featuring an innovative pro-cut lens with Nike MAX Optics Golf Tint, a patented technology that amplifies the white of the ball and enhances the contours of the green, the Golf X2 Pro delivers precise visual information at all angles of view in a deep lens cut for maximum coverage. The lightweight nylon frame is fully adjustable, with secure-wrap temples and a ventilated, adjustable nose bridge for  fog-free comfort and stability. The Golf X2 Pro's specialized thin-temple design fits comfortably under a hat.
Pros
Fantastic depth and contrast on greens
Cons
Price
Best for cloudy conditions
Maui Jim HT Banyans $219.00
Many people wear sunglasses irrespective of sun glare, and doing so often makes the landscape appear flat through the lens in cloudy conditions. In this instance wearing polarized glasses may be your best. Greens in my opinion seem to be easier to read on cloudy days through a polarized lens and none come better than those provided by Maui Jim. My particular favorite are the HT Banyans.

High Transmission lenses are working hard when distance counts. With the highest usable light transmission, The HT technology balances contrast and depth of field for crisper details during varying conditions.
Pros
Lightweight frame, shatter and scratch resistant polycarbonate frame
Available in prescription
Lens technology
Cons
Not the most stylish.
Best for durability and looks
Kaenon S-Kore $239.00
Kaenon have been in the sunglasses business since 2001, and have developed a proprietary polarized SR-91® lens technology which has cemented the firms' reputation for build quality and performance. Indeed, I am the proud owner of two pairs of RHINO wraparounds with varying lenses C12 and B12, which I happen to swear by.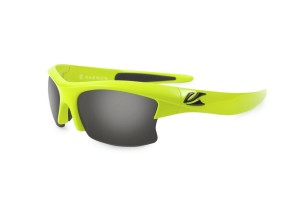 Kaenon introduced SR-91® as the answer to all of the shortcomings of existing lens materials. Glass is heavy and shatters, CR-39 is brittle and not impact-resistant, while polycarbonate offers a dull view and scratches easily. Kaenon's high-performance SR-91 lens comes standard in every sunglass they make and is available in polarized SR-91 lens options for glare elimination.
All polarized SR-91 lenses are also available in prescription.
Pros
Great lens technology
Stylish, with a large range to choose from.
Available in prescription
Cons
Can be a tight fit, so for those with larger heads beware!
Price.
Best for crossover sports
Oakley Flak Jacket XLJ $150.00
No review on sunglasses should be complete without an Oakley entry and these glasses are about the best I can find. Whilst these glasses are fantastic for golf especially in fading light, they are also widely used in other sports such as cycling, fishing, and mountaineering. The Oakley Flak Jacket XLJ Iridium takes the same exact frame as the Flak Jacket its forerunner, but has a slightly larger, more squared-off XLJ lens. So you get all the same features, only with a little more coverage for larger faces..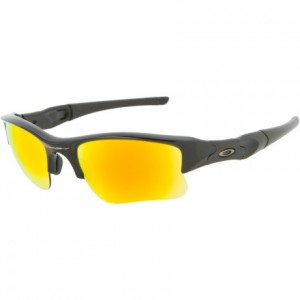 The Oakley Flak Jacket XLJ Iridium comes in a Matte White frame with Jade Iridium lenses. Jade has a neutral green base with a mirror coating for sunny days; it allows 17% light transmission. It comes with a hard case and a soft bag, the latter for cleaning and stowing the glasses in a pocket. There are also two sets of nose pieces to customize the fit.
These glasses feature Oakley's famed, golf-specific G30 lenses, which actually help to increase contrast and provide enhanced clarity, and depth perception.  They also help provide better vision in low-light conditions (overcast skies, shadows, etc.).  Oakley includes two different sized nose pieces with these glasses which is helpful, so you can customize your fit accordingly.
Cool feature: The frames are made of a material that actually increase grip when you sweat.  The replaceable, non-polarized lenses are available for purchase in multiple colors and offer UV400 protection (100% protection against UVA/UVB /UVC rays).
Pros
Trusted brand, high quality manufacturing
Good all round performance.
Comfortable
Cons
None other than price.
Best all rounder
Tifosi Veloce Interchangeable Sunglasses $69.99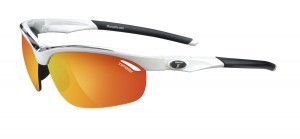 The Tifosi Veloce Interchangeable Sunglasses feature interchangeable, condition-specific lenses designed to improve your game and can be swapped in a matter of seconds. These sunglasses feature large, full-coverage lenses to maximize protection. The Veloce also fits a very wide range of faces to cater to almost anyone, while providing technically-advanced features to enthusiasts of all sports and outdoor activities. Specifically for golf, GT lenses allow for a 16.4% light transmission, so with a neutral color, they are great for full sun and high contrast so you can spot your ball in flight quickly.
Pros
Great price
Good for most aspects of play, especially tracking ball flight in very sunny conditions.
Lifetime warranty
Cons
Not the best for reading greens.
Conclusion
Choices, choices….it's difficult to recommend only one of these sunglasses, as they all perform well in different conditions and carry vastly different price tags. That said, when considering the four aspects to what makes a great pair of golf sunglasses which are:
Comfortable/wearability  – Obvious I know but a true test to wearing great sunglasses is that you forget that you have them on! Shades should "wrap" around your face so that sunlight can not reach your eyes from the sides, or from above or below and remain fixed and not slip off.
Protection  – Always go for sunglasses with 100% UV protection from UVA/UVB rays (UV400). Interchangeable lenses are a bonus but fiddly.
Contrast, visibility and perception – Arguably non-polarized lenses (and in tests purple fair the best), are the most suitable for golf, as they won't distort your depth perception and remain uncompromising on clarity.
 Style – Looking good is also worth paying a premium for.
The winner for me is………. Kaenon s-kore, with payment protection!! Oakley a very close second.