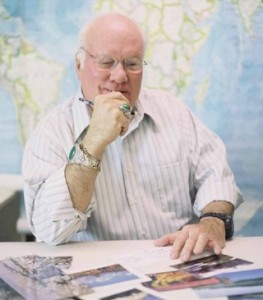 In the midst of a master's degree program in turfgrass management at Washington State University in 1965, Ronald Fream was lured away from his studies to join the golf course design team at Robert Trent Jones Inc. He worked with Jones for four years, and then spent three years as a construction supervisor for Robert F. Lawrence and as a design associate with Robert Muir Graves.
In 1972 he founded Golfplan, headquartered in Santa Rosa, California, after honing his skills designing national and international courses. Between 1972 and 1978, he has collaborated with five-time British Open champion Peter Thomson and Michael Wolveridge of Australia and John Harris of London providing worldwide golf architectural services.
The Golf Plan team of Ronald Fream, David Dale and Kevin Ramsey's has been involved in the construction of nearly 100 courses on every continent around the world. They are credited with over a dozen courses in Scandinavia, France and Portugal and one of their first European designs was here at Nordcenter, where the Golf and Country Club sits on the edge of the Gulf of Bothnia, 50 miles west of Helsinki.
Ronald Fream is a frequent contributor to technical golf publications and other golfing magazines. He has authored more than 100 articles on various and diverse aspects of golf course economics, safety, planning and design, golf feasibility, construction, ornamental horticulture and turfgrass maintenance.
John Fought III (born January 28, 1954) is an American golf course architect and...
Peter Matkovich grew up in Shabani, near Fort Victoria in Southern Rhodesia (Zimbabwe) and...