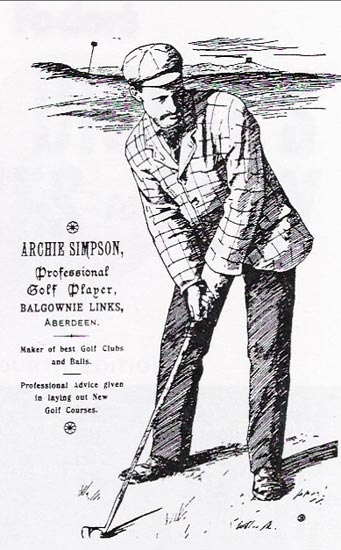 Born at Earlsferry, Scotland in 1866, Archie Simpson was the son of a linen weaver. There were six Simpson brothers who played the game well, three of which were well known in golfing circles. Jack Simpson won the Open championship in 1884, and became the pro/greenkeeper at Elie. Robert Simpson was in charge of Carnoustie and a respected club-maker. Robert was also involved in golf architecture, including the redesign of Carnoustie and the design of Panmure, both assisted by Old Tom Morris. But of all the brothers Archie was the most famous and the most gifted. He was twice runner-up in the Open; won the first golf tournament at Sandwich (defeating Douglas Rolland in extra holes); and won numerous money matches, including a thrashing of Willie Park-Jr over Musselburgh and Carnoustie.
Simpson began playing the game at an early age on the links of Elie – winning prizes in local competitions when little beyond school age. At age fifteen he had the remarkable accomplishment of coming in with the lowest score of the day in a club match at St. Andrews. Even at this early age he displayed the power and long driving that became his hallmark. Archie was just eighteen years of age when he became a professional, joining his brother Robert at Carnoustie. In March 1891 he went south, taking the head job at Bembridge, Royal Isle of Wight, but by the end of the summer he was back in Scotland working with Charlie Hunter at Prestwick. His stay at Prestwick was short lived as well. He returned to Carnoustie in late 1892, setting up the company Robert and Archie Simpson Clubmakers.
The reasons for Simpson's sudden movements are not known, but one often finds a woman behind such erratic behavior. We do know Archie married around this time, his wife Isabella Low Simpson was from Carnoustie (sister of George Low of Baltusrol fame, and future architectural partner of AW Tillinghast and Herbert Strong) and they had their first child in 1893. Late in 1894 Archie was on the move again, becoming the professional at Aberdeen, Balgownie golf course he and his brother Robert designed in 1888. Here he finally settled down, remaining at Royal Aberdeen for 16 years. This would be his most productive design period.
Regarding Simpson's design career as mentioned his first project was Balgownie in '88. In 1896 Simpson laid out Stonehaven and Dufftown. Then came Cruden Bay in 1899, arguably his greatest architectural achievement, although you wouldn't know it today since the club recognizes Tom Morris and not Simpson as its original designer. Multiple contemporaneous reports gave credit to Simpson although in March of 1899 The Times, when announcing the course's opening, wrote that it had been laid out under the advice of Old Tom. The Great North of Scotland Railway Company developed Cruden Bay as a major golfing destination, spending £50,000 on the links, a hotel, and an electric tramway connecting the hotel and station. With that kind of an investment having a big name attached to the project would be well advised, and certainly Old Tom's name brought a cache Simpson's could not. It is also entirely possible Morris did give some limited advise at some point, nonetheless it seems clear based on the preponderance of reports the original design was Simpson's. In 1902 Golf Illustrated wrote, "Since its inception three years ago, Cruden Bay has rapidly asserted itself as one of the finest greens in the kingdom. On the occasion of the inaugural tournament, the professional competitors were loud in its praises, and Archie Simpson, of Aberdeen, was congratulated on what is undoubtedly his masterpiece."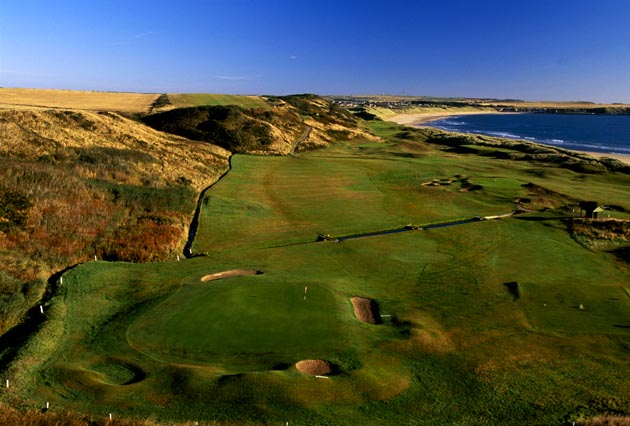 In 1903 Simpson was back at Stonehaven for a redesign. In 1905 it appears he laid out Banchory, and the new course at Balgagask. In 1909 he collaborated with S.Mure Fergusson on the design of Duff House, constructed by Andrew Simpson his nephew and the pro at Cruden Bay. In 1909 he designed Murcar. Murcar originally was to be a joint effort with Harry Vardon but for whatever reason Vardon opted out. There have also been claims Archie designed Nairn in 1887 but I have yet to find any credible evidence. Presently the official position of the club is Archie Simpson of Royal Aberdeen laid out the course in 1887, although on occasion they substitute Andrew Simpson's name. Royal Aberdeen was not founded until 1888, and Archie was not its pro until 1894, and Andrew Simpson was 13 years old in 1887. The evidence points to Tom Morris as Nairn's original designer, so if Archie was involved it was likely some time after 1887.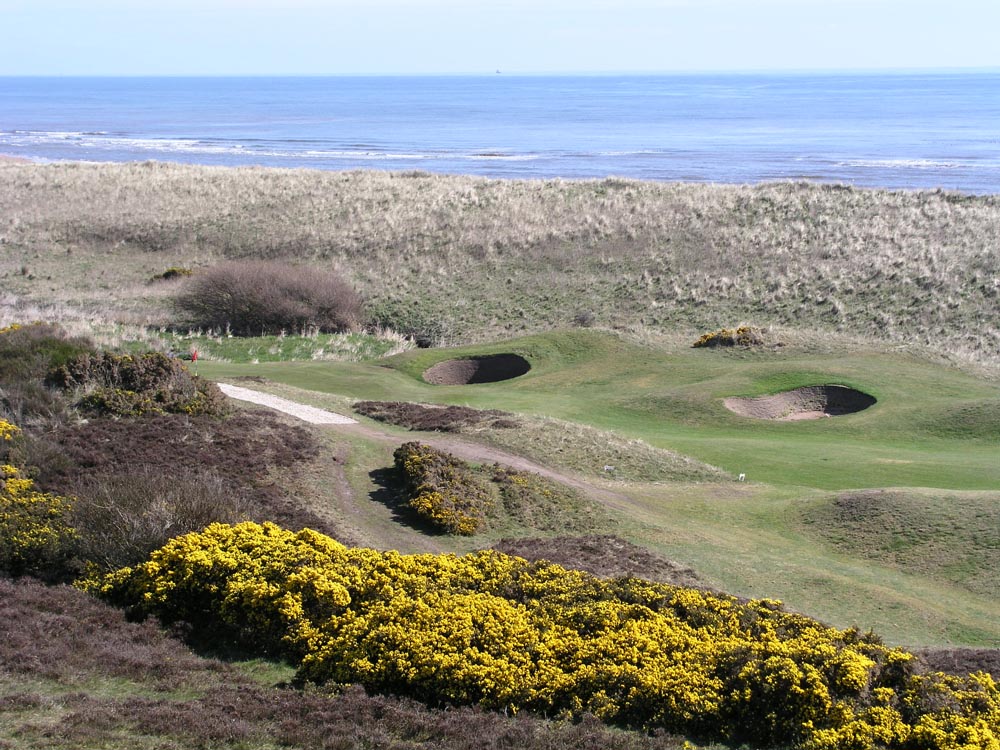 In 1911 Archie Simpson immigrated to America accepting a position as professional of the CC of Detroit. It is not known why he moved to the States but there are several possibilities. Financial considerations could have certainly been one – following the success of his brother-in-law and a number of other Carnoustie men in America. Another possibility was his relationship with Carter's Seed Company. Carter's was heavily involved in golf course construction. Murcar had been one of their projects, as was the new course at Detroit, designed by HS Colt. When Simpson arrived in the States his first responsibility was to oversee construction in conjunction with Carters' foreman Leonard Macomber.
After a decade at Detroit Archie Simpson returned to Carnoustie in 1921 and stayed for a year. His wife and children came over before him, as did George Low's wife. Apparently there was a family issue or illness. Late in 1922 Simpson returned to America to oversee the construction of Vincennes CC in Indiana, designed by William Langford. He remained there as pro for a couple of years and then moved to Tam O'Shanter in Detroit, designed by CH Alison and finally Clovernook in Cincinnati, again by Langford. It is not known if he was involved in the construction of those last two courses. He eventually retired to Detroit where he died in 1955, age 88. (source)
Peter McEvoy (born 22 March 1953) was a leading British amateur golfer for many...