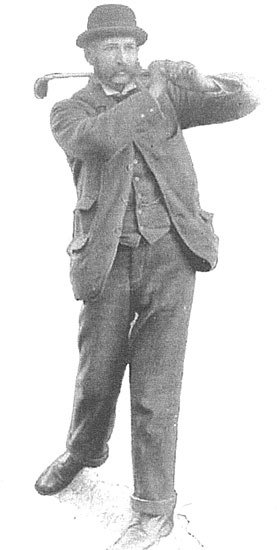 Born in 1850 at Musselburgh, Scotland, Tom Dunn was the son Willie Dunn, who along with his twin brother Jamie Dunn played a series of historic matches with Allan Robertson and Old Tom Morris. Tom Dunn's early life was spent at Blackheath in London were his father was custodian of the links. In 1864 Old Willie and family returned to Scotland taking a position at Leith. Tom remained at Leith until 1870 when he moved to North Berwick to start a club-making operation. Later that year he was appointed professional of the London Scottish Club at Wimbledon, and occupied that post for eleven years. In 1882 he returned to North Berwick taking charge of the links. This lasted until 1889 when he returned to London and the Tooting Bec Golf Club. It was during his tenure at Tooting Bec that the game's popularity exploded in the south, as did the demand for new golf courses, and Tom Dunn was poised to meet that demand.
In 1902 Tom Dunn wrote, During the particular period I was at Tooting Bec I laid out a great number of golfing greens; a well-known golfer called it the "Dunn Era." I cannot remember them all just now, but here are some: Furzedown Tooting [Tooting Bec], Mitcham, Sudbrooke Park, and the Old Deer Park at Richmond, Stanmore, Northwood, Enfield, Eltham, Woking, Rayne Park, Norbury, Balham, Bude, Fonthill, Buscot Park, Petworth, Staunton Harold, Steningford, Bedstone Court, Fan Court, Ganton reconstructed, Sheringham, Frinton-on-Sea, Skegness, Deal, Brighton extended, Hastings, Beckenham, Bromley, Welbeck Abbey, Dinard and Coubert in France, Shireoaks, Bulwell Forest, Surbiton, Hurlingham, Brooke, Ventnor, Taplow, Cork, Weston-super-Mare, Kingsdown, Landsdown at Bath, Ashley Park, Walton-on-Thames, Babraham, Hincksey Marsh at Oxford, Worlington, Soham at Newmarket, and the reconstruction of Littlestone and Seaford; and some in France, and Oratava in the Canary Islands, etc. In all I have laid out 137 golf links." Others he did not recall include Felixstowe, Great Yarmouth, Chorleywood and Hayling.
In 1895 Dunn was approached by a group from Bournemouth who were interested in building a golf course and an adjoining resort. He was given three sites to evaluate and chose Meyrick Park. Tom Dunn wrote, "Nothing appeared on the surface of the land but heather, furze, and pine wood; but with 100 men, twenty horses, and a scarifier, short work was soon made of this wilderness, and the links was completed in three months. It cost £2500." Dunn was appointed greenkeeper and professional, and remained for five years. During that time he designed nearby Broadstone on another heathery property. He considered Broadstone the best design of his career.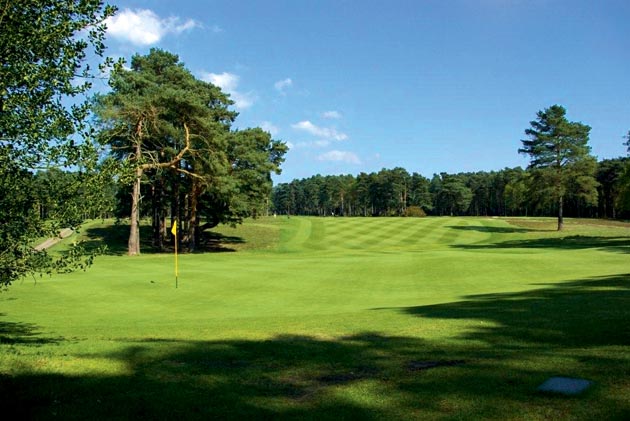 Near the end of his stay at Bournemouth Dunn's health began falter, and in 1899 he went to America to recuperate. His son John Duncan Dunn, a noted golf architect himself, was working in Florida at the time. During his six month stay TD claimed to have laid out several golf courses including one near the Tampa Bay Hotel. When he returned to England he designed Hanger Hill, where he remained as professional and greenkeeper until a bout with consumption forced his retirement. He died at the Blagdon Sanitorium, near Bristol, in 1902. The Edinburgh newspaper The Scotsman had an interesting take on his mercurial career, "Tom's career was rather much that of a rolling-stone, which was due to his own weakness, and not to the desire of any of the clubs which employed him to dispense with his services."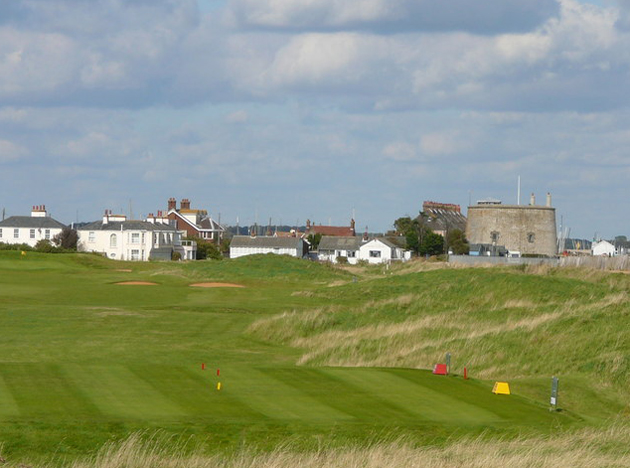 Tom Dunn was the target of criticism after his death (the critics were mostly silent while he walked amongst them). After reading these later accounts one could easily conclude "Poor Tom Dunn" was his given name. Men like Colt, Campbell and Mackenzie when analyzing the 1890s singled him out as the symbol for Victorian golf architecture and all the evils it represented. And without question he was guilty of the formulaic use of cross-hazards and the hit and run method of staking out a course. Make no mistake, that was his modus operandi. On the other hand he was providing an important service at a time when no one really knew what they were doing. As Horace Hutchinson wrote, "It was a simple plan, nor is Tom Dunn to be censured because he could not evolve something more like a colourable imitation of the natural hazard. A man is not to be criticized because he is not in advance of his time." One wonders if his formative years spent at Blackheath and not at Musselbourgh had a detrimental affect. Whatever the case he should at least be given partial credit for those courses that ultimately turned out well, like Woking. Certainly others were involved in polishing those courses but he did conceive their structure and should be credited at the very least for their initial routing, the foundation of all good architecture. (source)