… The Great Game and Its Most Spectacular Courses
.
This lavishly illustrated volume spotlights 55 of the most stunning golf courses across the globe. Transporting us to the birthplace of golf—Great Britain and Ireland—as well as renowned sites from St. Andrews in Augusta to Ballybunion in Melbourne, from Pebble Beach to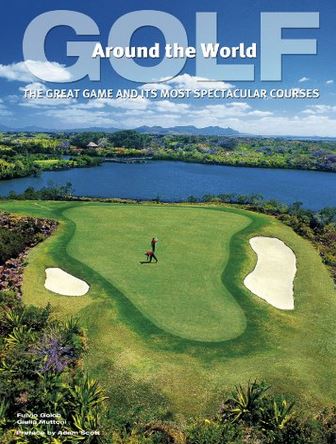 Valderrama, Golf Around the World demonstrates the tremendous appeal of the game through depictions of the top world-class courses.
Panoramas of lush greens and beautifully landscaped courses as well as close-up details of the unique characteristics of each course accompany a text that describes the physical layout of each and the techniques used by the champions to tackle the challenges they present.
A brief history of each clubhouse and resort is provided, complemented by images that showcase these splendid structures—from the magnificent 18th-century Georgian mansion that is the heart of Loch Lomond Golf Club to the stately 132-room Edwardian hotel of Turnberry Golf Club in Scotland.
With a wealth of inside information on each course, golfing tips from the pros who have conquered these courses, and photographs documenting highlights of the competitions played on each, this indispensable volume belongs on the bookshelf of every golfer.
Publication Date: November 5, 2013
About the Author

During his studies at Bocconi University, Fulvio Golob served as vice director of Sciare magazine, covering four successive Winter Olympic Games. Subsequently he became manager of other sports-related publications, including Forza 7, a historical magazine on Italian marine sports, and Sport Club. He then fell in love with golf, and has had the good fortune of being able to nurture this passion by heading the two best-established Italian magazines in the field, Golf & Turismo and Il Mondo del Golf, of which he has been managing director since June 2007.

Giulia Muttoni began working with the magazine Arte e Mercato while still at university and later continued freelance writing for a variety of magazines. In 2000 she became interested in golf, first working for Golf & Turismo and then Il Mondo del Golf as an editorial coordinator, photographer, and journalist. She also writes about golf for various national publications.