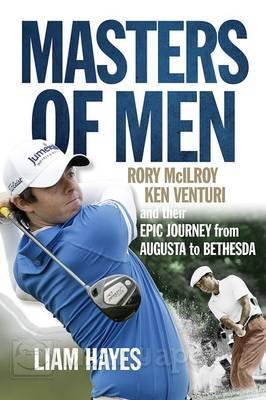 Masters of Men is the story of one journey taken, over half a century apart, by two outstanding golfers. But, this is more than a golf book. It's the story of two young men, and the people who filled their lives – the mentor who dominated Ken Venturi, the agent who loomed too large over Rory McIlroy, and the two young girls who became their first loves and lost their men as they became champions.
Uniquely, it pits the incredible struggles and victories of perhaps the single most naturally talented golfer from the 1950s and '60s (Ken Venturi, US Open champion, 1964) against the game's most naturally talented golfer of today (Rory McIlroy, US Open champion, 2011).
It puts them on the same tee boxes, on the same greens, on the same day. Masters of Men uniquely, and dramatically, brings together for two days, two remarkable golfers from two different ages in golf – on the final day of their greatest failure, and the final day of their most remarkable triumph. It weaves in elements of cultural and social history, examines the birth of two of the greatest golf courses in the United States, Augusta National and Congressional CC, and examines the journey undertaken by the game of golf, and its greatest players from generations past, from Byron Nelson and Ben Hogan, to Arnold Palmer and Jack Nicklaus, to Greg Norman and Tiger Woods.
It is an extraordinary story and one that will appeal to both golf fans and the wider sport-reading public.
Publication date: November 7, 2013
About the Author

Liam Hayes lives in Dublin. He is an award-winning sports writer, and the best-selling author of Out Of Our Skins. Hayes is also a former newspaper editor for Ireland on Sunday, a sports columnist with the Irish Daily Mail, and a noted celebrity guest on sports programming and current affairs shows on Irish TV.