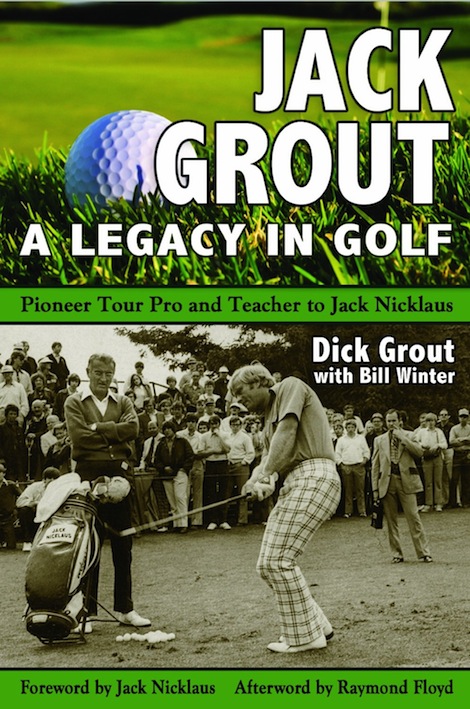 Jack Grout was my unconditional friend for nearly four decades, serving as both my golf instructor and, after the premature death of my father in 1970, as a second father to me. Jack gave a great deal of himself to me as my only golf teacher from the day I first attended one of his junior golf classes at Scioto Country Club, right up through my final major championship victory in the 1986 Masters. – Jack Nicklaus
Jack Grout: A Legacy in Golf tells the remarkable story of a middle-class Oklahoman who discovered golf at the age of eight, was teaching it to others by age fifteen, and who would travel he ragtag early PGA Tour in drafty automobiles with men who became legends of the game: Ben Hogan, Byron Nelson, Sam Snead, Gene Sarazen and many others. Those tough days on the Tour led Jack Grout to a series of club-professional jobs, and eventually, into the orbit of a husky ten-year old redhead named Jackie Nicklaus the youngster who, under Grout s tutelage for thirty-nine years, became golf s greatest champion, the mighty Golden Bear.
This is a book about the evolution of American golf from country club-based to one of its most popular activities, and of a man who forged a solid career as a playing professional then a truly brilliant one as teacher of not only Jack Nicklaus, but also Raymond Floyd, David Graham, Lanny Wadkins, Olin Browne and other great champions. But it is not just a golf book. As jack Nicklaus has noted, this is a book for golfers and non-golfers alike. It is the warm, eventful and often funny story of a quiet and humble family man who succeeded at every level in a profession that demands tremendous self-focus and intense competitiveness. And who did so while managing, always, to be just a really good guy.
I am so delighted that finally golfers and fans throughout the world will recognize (Jack Grout) as being the top teacher in the world during the Nicklaus era. If he were alive today, nobody would have ever heard of Butch Harmon!!! — Keith Marks, Class-A PGA Lifetime Member
This book is a reminder of why the great players and teachers are just that…GREAT! — Dottie Pepper, NBC golf analyst and 17-time LPGA tournament winner
I want you to know that I could not have accomplished all that I have done without you. Your patience, your tutelage and your inspiration has been the formula of success. I sincerely thank you. — Raymond Floyd in letter to Jack Grout after winning the 1986 U.S. Open
Publication date: November 1, 2012
About the Author

Bill Winter, a career newspaper reporter and editor who also served for sixteen years as president and executive director of the Reston, Virginia-based American Press Institute. Dr. Winter is based in southwest Florida.
Dick Grout is a second-generation PGA golf professional who has followed closely in his famous father's footsteps. He is an accomplished player and teacher who specializes in the history and traditions of golf and has assisted a number of journalists in their writings about the extraordinary life of Jack Grout. Dick Grout lives in Sunset, SC