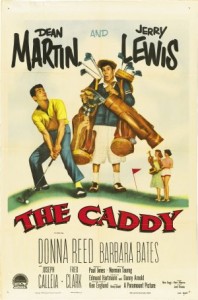 Dean Martin and Jerry Lewis team-up in this film to produce a wildly hysterical comedy. Harvey Miller (Jerry Lewis) may be the son of a great golfer and he may have inherited those skills, but when it comes to playing in front of a gallery, forget it! His stage fright is too much for him to stomach. He loves the game, so he channels his skills and acts as caddy to help-out his girlfriend's brother, Joe Anthony (Dean Martin). Anthony has to try to convince his father that the game of golf is more complex than just hitting a ball into a hole. The duo makes it to the PGA tour where their skills are acknowledged by an agent who believes in their potential.
"Kathy Taylor (Donna Reed): [At an elegant country club soiree] Good evening.
Joe Anthony (Dean Martin): [Feeling underdressed and out of his element] I better make that 'good night.' I'm out of uniform.
Kathy Taylor: You're positively stunning. So what if you left your dinner jacket at home?
Joe Anthony : I left it in Kansas City, but I can show you the pawn ticket.
Kathy Taylor: I believe you. Shall we dance?
Joe Anthony: Only if I lead.
Kathy Taylor: You can lead."
Cast: Dean Martin, Jerry Lewis & Donna Reed (
source
)
Kids we might be a little late tonight, you now how these shotgun tournaments...
Golf too complex? It is, but your swing can be simple! Only five fundamentals...