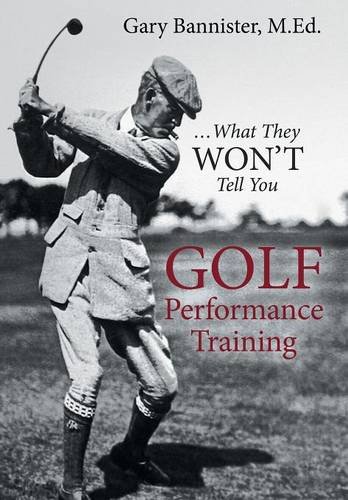 If you've been golfing for any stretch of time, you've probably been exposed to the myth that movement-based functional training and sport-specific exercise can make you a better golfer.
Gary Bannister reveals a proven muscle-based alternative that gets better results: proper strength training.
A longtime golfer, Bannister has played with some of the world's greatest champions. He established and coached the men's and women's varsity golf teams at Averett College, and opened South America's first Nautilus gym, which led him to prepare Venezuela's male and female golf teams for the World Team Amateur Championship in 1986.
Bannister advises golfers to build the muscles involved in golf in the most efficient and effective way you can without trying to be specific. That means without trying to duplicate the actions of the golf swing. Only after you've done that should you focus on learning to use that strength to your advantage on the golf course.
Filled with golfing anecdotes, rich history, and exercises that will keep you fit, you'll be amazed by how much your game improves through Golf Performance Training.
Publication date: April 20, 2016 (source)
About the Author
Gary Bannister, M.Ed., received bachelor's degrees from McMaster University in Hamilton, Ontario, and a master's degree in education from the University of North Carolina at Greensboro. He is also the author of In Arthur's Shadow and If You Like Exercise … Chances Are You Are Doing It Wrong. He lives in Tequesta, Florida, and works as a physical trainer.