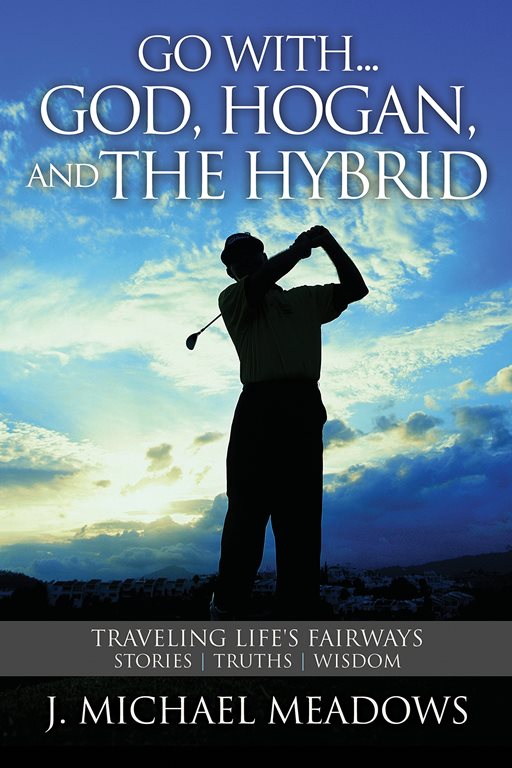 Go with God, Hogan, and the Hybrid is J. Michael Meadows' first book and showcases his life experiences in the context of stories, truths, and wisdom related to golf and the role it has played in his life.
The book is filled with dozens of stories of golf's greats―Hogan, Trevino, Palmer, Floyd and many others―who have crossed paths with Meadows as he's traveled (and played) life's fairways. Go with God… is humorous, nostalgic, insightful, and empowering.
The author, who has escorted hundreds of golfers to Scotland and Ireland with his Golf in the Kingdom tour and golf travel company, shares numerous insights from a lifetime in business and golf. Readers will enjoy and come to embrace his Southern style (and -ims), the family and faith foundations upon which he has built a rich and rewarding life.
Whether it's a story about Ben Hogan and his impact on the game of golf, Meadows' founding of The Screen Door Open golf tournament, corporate life with IBM and Exxon, life as an entrepreneur in golf, or his views on food and fitness, readers will be engaged and entertained. He shares personal successes and failures as well as some truths of mental attitude dynamics and spirituality that have sustained him as he's traveled the cartpaths of life.
Publication date: October 9, 2018 (source)
About the Author – J. Michael is an avid, low-handicap golfer, a member of Phoenix Country Club in Phoenix, Arizona and The St. Andrews Golf Club, Scotland. Golf and business have taken Meadows around the world and helped create his interfaces with famous golfers like Ben Hogan, Lee Tevino, Raymond Floyd and others. Go with God, Hogan, and the Hybrid is Meadows' first book and shares the truths and wisdom of the experiences that have shaped his life. He is President of two organizations, based in Phoenix, Arizona: Golf In The Kingdom, Inc. creating custom golf tours to Scotland (and elsewhere) allowing golfers to experience the history and traditions of the birthplace of golf and golf around the world, and ProFund, Inc., an innovative system of fundraising for not-for-profit organizations that Meadows developed and which has raised hundreds of millions of dollars for charities across the country. Meadows was born in Oklahoma City, OK in 1946. After completing high school there, he attended Oklahoma State University, and received a Bachelor of Science Degree in Economics in 1968, and since has served as senior marketing representative, IBM Corporation; district programs manager and as national sales training specialist, Xerox Corp.; marketing manager Exxon Corporation, and as director of sales training, Exxon Office Systems Division, United Kingdom and the Netherlands.
The #1 New York Times bestselling author of A Good Walk Spoiled returns to...
In nearly a decade hosting The Dewsweepers Golf Show on PGA Tour Radio/SiriusXM and...