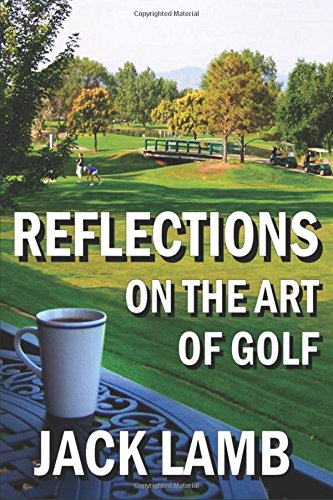 After six years of turmoil caused by the illness and injury of the two people closest to me in my life, and the aftermath of dealing with their eventual deaths, I found myself in need of a place to live in order to spend what remained of my life. And as destiny would have it, I stumbled on a townhouse on the third hole of the golf course I had played the last five years, and immediately purchased it and moved in a week later. As hoped, the change in my environs pulled me out of the introverted world in which I lived, and propelled me into a new life in the only place of cheer left to me; the golf course.
Having completed the four novels in The Art and Artifacts of Adventure series I spent the last three years writing, concerning the adventures my companions and I survived on a lengthy archaeological expedition through Mexico and Central America in 1981, I needed a break of indeterminate length, until such time as I felt ready to begin another major project. But to keep my hand in the game as it were, out of the blue I resolved to write about the people I watch play past my porch when I am not myself playing golf.
In theory, this inconsequential task would help hone my observational skills on matters mundane, surreptitiously surveilled from my back porch not a stone's throw from the tee on the third hole of the Littleton Golf and Tennis Club's executive golf course. I would then use these observations to write and edit a chapter in a single sitting until it was publication ready, before emailing it to a dozen people to be read. I hoped this intensive exercise would drastically improve the composition quality of my first drafts, and concatenate the dozen rewrites I usually made into a single carefully composed edit, as if I wrote a daily column for a newspaper on a fixed deadline.
The book Reflections on the Art of Golf, written over four short months split between summer and autumn, is the result of this exercise; nostalgically chronicling my discriminating, albeit sometimes obscure, observations on the complexities and convolutions of the game of golf, and the peculiarities of the miscellany of common people who customarily play it.
Publication date: March 20, 2017 (source)
About the Author

While Jack Lamb became skilled in a myriad of mundane disciplines within ordinary reality, his life-long vocation has always focused on the Nature of Consciousness. By exploring alternative states of reality, he has attempted to understand how the infinity of intricate and seemingly persistent incarnations of actuality that comprise our perceptual world are manifest as real from the 'stuff that dreams are made of,' given the inexplicable spatial-temporal restrictions demarcating and delimiting our until now mystifying existentiality. Jack's nonfiction sets of books recount the incredible experiences and anomalous adventures he encountered on this solitary and introspective journey; and reveal the truths he discerned regarding the existence of life and the act of living.
Bobby Jones and Tiger Woods won their first majors at the age of 21....