One Country Club Drive weaves amusing and heartwarming stories of growing up and working on a private country club. It follows the evolution of a historic golf course from its construction one-hundred years ago through the lives of its humble caretakers.
The stories in this book revolve around the home that three generations of keepers of the greens lived in – coming of age and fatherhood themes mixed with golf history and plenty of humorous and lifelong lessons. The Peck family spent over 90 years in that house, watching the likes of Walter Hagan, Ben Hogan and Arnold Palmer play in their back yard. Author Marty Peck had the peculiar honor of growing up in that house, quite literally on golf course property while his father Harold was Greens Superintendent.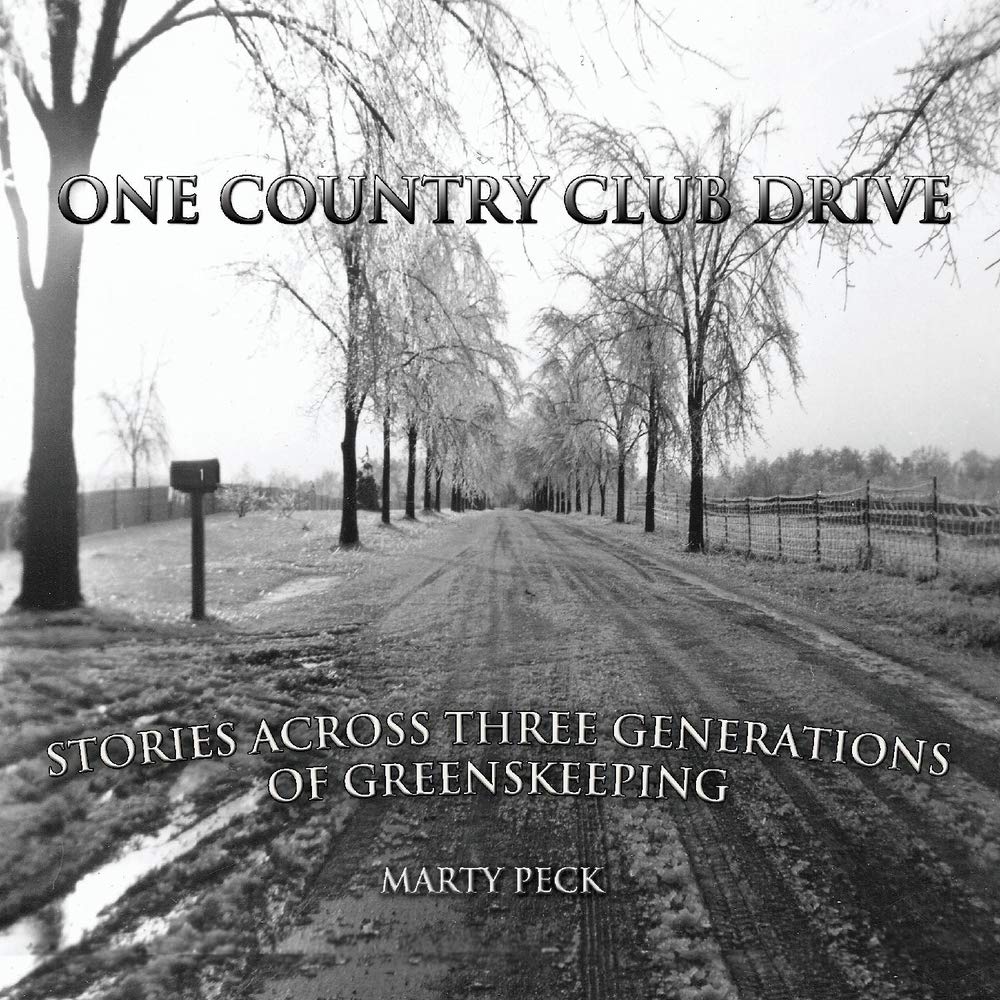 Harold grew up in that same house watching his teamster father Andy use horses to sculpt the course from the former Post (cereal) family summer estate. Starting out with horse-drawn fairways mowers and two-man-drawn greens mowers, inventions like the 1925 Roseman Turf Tractor, motorized sand trap rakes and the hydraulically powered Triplex greens mowers seemed as advanced as the Space Shuttle. With 216 images, the book offers a rare perspective on golf that is educational as well as entertaining. Woven among hair-raising tales of slot-machine con artists, devastating fires and floods, and national scandals, are stories of family from three generations of Greenskeeping.
Peck tells us what it was like to literally live at the club with behind-the-scenes escapades that could be right out of a caddy shack movie. A kid can find a lot of trouble and learn a lot of life lessons by dare deviling Trucksters over bunkers, having tennis ball cannon wars and hunting down gophers by the hundreds with a dachshund on a mission named Tinker Bell. Marty Peck will make you appreciate golf course history and have a laugh or two while you're at it.
Publication date: August 3, 2019
About the Author

Marty Peck grew up living on the grounds of a historic private golf club, at a time when champion golf professionals actually toured local clubs for exhibitions. He was born into a humble, hard-working family that was widely known in the world of Greens Superintendents. He lived many a golfing fan's dreams while playing and working on the links, experiencing the sport from behind the scenes. From a young age he dreamt of following the greenskeeper footsteps of his father and grandfather, yet ultimately broke family tradition to become an engineer and nationally-renown lighting designer. Writing this book has allowed him to relive the antics of his youth and pay homage to his family's 90-year golf legacy.
For the first time in 80 years of history, the Augusta National Golf Club...