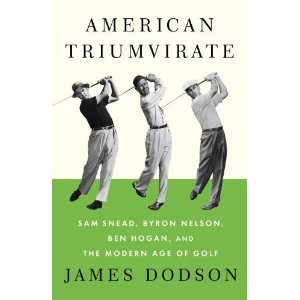 In this celebration of three legendary champions on the centennial of their birth in 1912, one of the most accomplished and successful writers about the game explains the circumstances that made each of them so singularly brilliant and how they, in turn, saved not only the professional tour but modern golf itself, thus making possible the subsequent popularity of players from Arnold Palmer to Tiger Woods.
During the Depression, after the exploits of Walter Hagen and Gene Sarazen and Bobby Jones's triumphant Grand Slam in 1930 had faded in the public imagination, golf's popularity fell year after year, and as a professional sport it was on the verge of extinction. This was the unhappy prospect facing two dirt-poor boys from Texas and another from Virginia who had dedicated themselves to the game yet could look forward only to eking out a subsistence living along with millions of other Americans. But then lightning struck, and from the late thirties into the fifties these three men were so thoroughly dominant—each setting a host of records–that they transformed both how the game was played and how it was regarded.
About the Author
JAMES DODSON, the author of Final Rounds and Ben Hogan's authorized biography, among other books, is the editor of PineStraw and O. Henry magazines. He wrote for Golf magazine for nearly twenty years, and his honors include the Donald Ross Award and the Herbert Warren Wind Award. (source)
This title will be released on March 20, 2012.