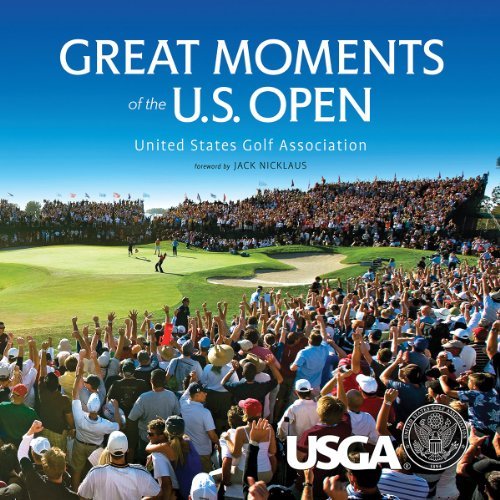 The most exciting stories in the Championship's history.
Great Moments of the U.S. Open celebrates the accomplishments of individual champions, shares their inspirational stories and chronicles the extraordinary circumstances each faced — all of which have helped to make the U.S. Open one of the world's premier sporting events. This book, developed by the United States Golf Association, draws together heroes from different eras who shared common experiences and emotions.
The stories are brought to life with stunning archival images and artefacts from the USGA's collection, connecting the present to a more distant past.
From American Francis Ouimet's shocking victory over top British professionals in 1913, to Jack Nicklaus's narrow defeat of Arnold Palmer in 1962 for his first professional win, to Tiger Woods' breathtaking comeback on a broken leg to capture the 2008 U.S. Open — the gutsiest, classiest and most improbable victories are recounted here.
Great Moments of the U.S. Open contains 27 memorable stories and five essays on America's national championship. These include:
Billy Burke in 1931; who needed 144 holes to defeat George Von Elm in a playoff
Ben Hogan in 1950; who won at Merion just 16 months after a near-fatal car crash
Ken Venturi in 1964; who held on to win at Congressional despite suffering a heat stroke
Gary Player in 1965; who became the first international champion in nearly two generations
Tom Watson in 1982; whose miraculous chip-in on the 71st hole denied Nicklaus a fifth Open title
Tiger Woods in 2000; whose dominating performance led to a 15-stroke victory at Pebble Beach
Rory McIlroy in 2011; who set a dozen U.S. Open scoring records in a rout of the field at Congressional
For all its hushed moments and idyllic settings, golf is about passion, prowess and thrills. This book goes beyond the leader boards directly to the heart of the game. Five chapters encapsulate the championship's colorful history through its great stories. These are the victories that heralded significant changes in the sport. They are the underdogs who had to overcome injuries and sickness to become champions. And they are the comeback heroes and the dominant champions who make it look easy.
The book is lavishly illustrated with stunning photographs of the championship artefacts held by the USGA Museum. Readers will also enjoy some of the world's best action and course photography.
Complete with a foreword by four-time champion Jack Nicklaus and essays focusing on the origins of the championship, U.S. Open courses, Francis Ouimet's 1913 victory, near misses and the rise of international players, Great Moments of the U.S. Open provides readers a unique and authoritative view on the best of America's most prestigious golf championship.
Great Moments of the U.S. Open is broken down into five chapters: Defining Moments, Perseverance, Underdogs, Comebacks and Dominance.
Defining Moments focuses on golfers whose victories heralded significant changes or gains for the golf world. Golfers profiled here are:
Harry Vardon in 1900
Johnny McDermott in 1911
Walter Hagen in 1914
Bob Jones in 1930
Jack Nicklaus in 1962
Gary Player in 1965
Tom Watson in 1982
Perseverance focuses on golfers who overcame injuries, sickness and early-round setbacks to finally become champions. Golfers profiled here include:
Billy Burke in 1931
Olin Dutra in 1934
Ken Venturi in 1964
Payne Stewart in 1999
Tiger Woods in 2008
Underdogs focuses on those golfers that everyone had counted out, or didn't even consider, yet managed to achieve remarkable victories. Golfers profiled here are:
Gene Sarazen in 1922
Johnny Goodman in 1933
Jack Fleck in 1955
Lee Trevino in 1971
Hale Irwin in 1990
Comebacks features the best come-from-behind victories in U.S. Open history, from early-round disappointment to life-threatening circumstances. Golfers profiled here include:
Byron Nelson in 1939
Ben Hogan in 1950
Arnold Palmer in 1960
Billy Casper in 1966
Johnny Miller in 1973
Jack Nicklaus in 1980
Dominance features those players who picked apart the field and made winning golf's toughest test look easy:
Willie Anderson in 1905
Tony Jacklin in 1970
Tiger Woods in 2000
Rory McIlroy in 2011
Publication Date: May 20, 2013 (source)
About the Authors

Robert Williams is the Director of the USGA Museum in Far Hills, N.J., the world's premier institution for the preservation and celebration of golf's rich history. He is a former professional golfer and lighting designer who has spent many years managing the design, construction and operation of museums and other non-profit organizations.

Michael Trostel is the Senior Curator and Historian of the USGA Museum. He is responsible for developing historical content and managing research activities at the Museum and serves as a writer at several championships each year.
Dave Pelz's Short Game Bible is the first book in a four-book series, The...
Dr Bob Rotella, author of half a dozen bestselling books on golf, including Golf...