To all true golfers, the name conjures up stirring images. Merion's East Course, always on everyone's list of favorites, is a traditional golf club where history has been made time and time again.
There's no doubt that the gods of golf have smiled on Merion. The Club was founded at just the right moment in time when the game was in its infancy in this country. It was founded in a marvelously right location, where sports-minded men and women have always abounded. And it had the right golf course architect, Hugh Wilson, a gifted amateur whose maiden effort, according to USGA president Richard S. Tufts, was a "model test of golfing skill and judgment for future architects to copy."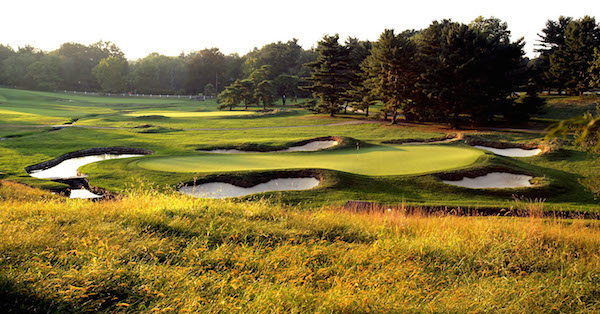 The current condition of the course is constantly compared to early photographs, and every effort is made to ensure that people playing the course today compete on the same course as did the champions of old. For that reason, also, the course is maintained as though to hold championships daily. There is always an intermediate rough. The dunes grass and Scotch broom are other Merion traditions, as is the way that bunkers are maintained with peninsulas, islands of grass and "eyebrows.
Traditions at Merion are concerned with the playing of the game. No mulligans are permitted at the first tee. Players and caddies alike are expected to respect the course, and others on the course, by leaving each hole better than the way they found it — replacing divots, raking bunkers and fixing pitch marks — and by leaving it quickly. Slow play earns a reprimand at Merion.
All in all, Merion is about golf. It honors history and the continuing values of the game.
The grand old course made its debut in national competition when it hosted the 1916 U.S. Amateur. The 1916 Championship also marked the first national appearance of Robert T. "Bobby" Jones, Jr., then 14 years old, who went on to win his first National Amateur at Merion in 1924. Jones closed his international career winning the 1930 U.S. Amateur on Merion's eleventh hole. This was his fourth major win of the year (U.S. and British Amateurs and Opens) completing the never-equaled Grand Slam.

Merion continues to make golf history to the present day. Georgianna Bishop, Bill Campbell, Dorothy Campbell, Gary Cowan, Olin Dutra, Chick Evans, David Graham, Leigh Anne Hardin, Ben Hogan, Bobby Jones, Lloyd Mangrum, Buddy Marucci, Phil Mickelson, Cary Middlecoff, Johnny Miller, Edoardo Molinari, Jack Nicklaus, Arnold Palmer, Chris Patton, Gary Player, Mrs. Mark Porter, Jay Sigel, Sam Snead, Mrs. Henry Stetson, Lee Trevino, Tom Watson, Tiger Woods, Justin Rose — Merion has known them all.
In the late 1800s, the Old Course was getting too popular, largely due to...
Originally designed in 1910 by Burrows and Del Court Van Krimpel, the Hilversumsche Golf...