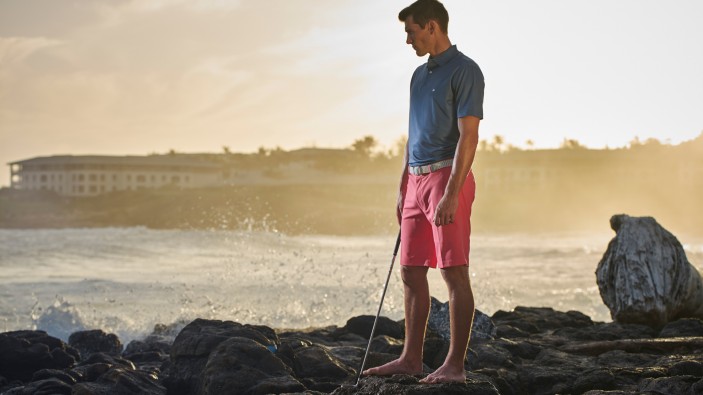 Shared from TrendyGolf Magazine
Peter Millar has breezed in with a new collection for 2016, which is appropriate.
Brandt Snedeker – a quality golfer who goes about his business in a calm, understated way – recently claimed the Farmers Insurance Open.
He did it at a wind-swept Torrey Pines where the gusts were so strong that fallen trees curtailed the tournament to three rounds.
And he did it wearing Peter Millar clothing.
Founded in 2001, the Peter Millar line stands for classic sophistication and style. There is an attractive subtlety about their designs, even though they like to experiment with colours.
Their merino quarter zip knit – in either black or navy – retails at £115 and will be a popular addition when there is a chilly breeze blowing across the fairway.
The zip allows some versatility and a fine 12-gauge knit gives it a smooth feel.
If you're a fan of the zip-up, long sleeve garment, the Perth stretch loop quarter zip in three colours – black, midnight or the outstanding British grey – is seen as a mid-weight layer.
The French terry wicks moisture away to keep you dry and comfortable in all conditions and retails at £79.
If the shorter sleeves are more your choice when the temperatures start to rise, the Masonboro seaside wash polo Atlantic blue is an eye-catching three-stripe design, retailing at £75.
With complementary colours and softer tones, it's a smart look and it's easy to match with other items. 

If you want something more simple, the solid stretch jersey is a polo that is highly breathable thanks to the micro-mesh pique weave.
With the blend of 94 per cent polyester and six per cent spandex, the polo – retailing at £59 – offers a good fit, a four-way stretch comfort and is available in white, guava, midnight and cottage blue.

Using modern materials and tech fabrics, all of the lines are made with 2016 and beyond in mind.
But there is also something to admire in their updated and evolving version of nostalgia and tradition that maintains the highest level of quality without trying too hard to chase trends ..
After all, timeless elegance never goes out of fashion.
STAY CONNECTED WITH TRENDYGOLF
FACEBOOK | TWITTER | YOUTUBE | INSTAGRAM | PINTEREST | GOOGLE+