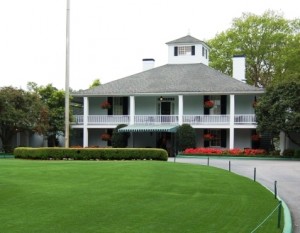 The Champions Dinner has been an annual tradition at The Masters since 1952, when Ben Hogan suggested and hosted the first dinner.
The idea is simple: Winners of The Masters are members of an exclusive club, so they get together each year on the Tuesday night of tournament week all wearing their masters green jackets to welcome the previous year's winner to the club. That club is officially known as the Masters Club, but unofficially the gathering is called the Champions Dinner.
The previous year's winner gets to select the menu (and pick up the tab!). Over the years, the dinner fare has ranged from cheeseburgers to sushi to haggis* (if you don't know what haggis is, you're better off that way).
But the former champs aren't required to eat what the defending champion selects. If the reigning champ's taste isn't to the taste of other Masters winners in the room, they can order off Augusta National's regular menu (which includes steaks, chicken and fish dishes).
Our favorite Champions Dinner menu was the one offered by Tiger Woods in 1998: cheeseburgers, chicken sandwiches, french fries and milkshakes. Hey, Tiger was only 22 at the time.He must be glad he did not win last year or all the humble pie jokes would be doing the rounds.
It's difficult to find info on Champions Dinner menus from the early days of the event, but more recent menus are usually reported in the media in the weeks leading up to The Masters.
Here is a sampling of Champions Dinner fare (the source for most of the pre-2000 menus listed below is a 1999 article in The Augusta Chronicle by Emily Sollie):
Angel Cabrera, 2010: And Argentine asado, a multicourse barbecue featuring chorizo, blood sausage, short ribs, beef filets and mollejas (the thymus gland, a k a sweetbreads).
Trevor Immelman, 2009: Bobotie (a spiced minced meat pie with an egg topping), sosaties (type of chicken skewer), spinach salad, milk tart and South African wines.
Zach Johnson, 2008: Iowa beef, Florida shrimp.
Phil Mickelson, 2007: Barbecued ribs, chicken, sausage and pulled pork, with cole slaw.
Tiger Woods, 2006: Stuffed jalapeno and quesadilla appetizers with salsa and guacamole; green salad; steak fajitas, chicken fajitas, Mexican rice, refried beans; apple pie and ice cream for dessert.
Phil Mickelson, 2005: Lobster ravioli in tomato cream sauce, Caesar's salad, garlic bread.
Mike Weir, 2004: Elk, wild boar, Arctic char (that's a fish), Canadian beer.
Tiger Woods, 2002: Porterhouse steak and chicken with a sushi appetizer.
Vijay Singh, 2001: Seafood tom kah, chicken panang curry, baked sea scallops with garlic sauce, rack of lamb with yellow kari sauce, baked filet Chilean sea bass with three flavor chili sauce, lychee sorbet.
Mark O'Meara, 1999: Chicken fajitas, steak fajitas, sushi, tuna sashimi.
Tiger Woods, 1998: Cheeseburgers, chicken sandwiches, french fries, milkshakes.
Nick Faldo, 1997: Fish and chips, tomato soup.
Ben Crenshaw, 1996: Texas barbecue.
Jose Maria Olazabal, 1995: Paella (a Spanish rice dish) and hake (whitefish), plus tapas.
Bernhard Langer, 1994: Turkey and dressing, black forest torte.
Fred Couples, 1993: Chicken cacciatore.
Sandy Lyle, 1989: Haggis, mashed potatoes, mashed turnips.
Bernhard Langer, 1986: Wiener schnitzel (breaded veal).