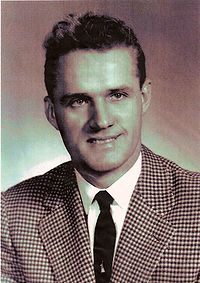 Homer David Fieldhouse (June 10, 1928 – June 30, 2008) was a landscape architect who is credited with designing and overseeing the creation of almost 60 golf courses across the Midwest.
Homer was born in Dodgeville, Wisconsin to Claire J. Fieldhouse and Effie M. Fieldhouse (née Davies). Claire was in the nursery business and one of his clients was Frank Lloyd Wright's Taliesin Design Studio, located near Spring Green, Wisconsin. Homer spent a summer as a teenager working with his father at Taliesin.
After graduating from Dodgeville (WI.) High School in 1946, Homer enlisted in the Marines. He was stationed at Cherry Point, North Carolina as a mechanic, primarily working on F4U Corsairs.
After his discharge from the Marines, Homer enrolled in the landscape architecture department at Iowa State College (now Iowa State University), in Ames, Iowa. After three years there, he transferred to the University of Southern California in Los Angeles to study under noted landscape architect, Garrett Eckbo. While in Southern California, he helped with landscaping homes for movie stars such as Greer Garson. 

In 1953, Homer moved to Madison, Wisconsin to open a nursery business with his father.The father-son team worked together until Claire died in 1957. Throughout the mid- to late-1950s, Homer worked on landscaping projects for a variety of clients, often traveling to California during the winter months to work. Homer and Lynn Sulis married at the Frank Lloyd Wright-designed First Unitarian Society Meeting House on June 28, 1958. Homer started doing golf course work in the mid-1950s, with the bulk of his golf course work being done between 1961 and 1972.

n 1967, Homer prepared a book, Recreation Land Development, for the State of Wisconsin Department of Resource Development. In the 1980s, Homer was able to establish contact and exchange correspondence with possible relative Admiral Sir John Fieldhouse (later Baron Fieldhouse). Throughout his career, Homer was also known for his creative deck and patio designs.
Homer's last 18-hole golf course was Lake Breeze Golf Club in Winneconne, Wisconsin, which opened in 1991.Overall, Homer's last golf course project was CNC Links in Newton, Wisconsin, which opened in 2008. With the help of his son, Architect's Assistant/Presentation Model Craftsman Erik Fieldhouse, Homer was able to stay active in the profession through his final years.