A true pioneer in the purest sense is the best description of Javier Arana, a great amateur golfer and Spain's finest golf architect. This sounds like a bold statement in a country which has produced a number of great golfing figures in recent years, but we must look back at Arana's accomplishments both as a player and more importantly as an architect to fully understand the impact that his activity has had on golf in our country.
Javier Arana was born in Bilbao in 1905, the son of Luis Arana and Dolores Ybarra. Golf in Spain at that time was a minority sport and was limited to three clubs: Madrid Polo Club, founded by King Alfonso XIII and the Duke of Alba, and two clubs in Huelva and Las Palmas, both founded by British residents. It was not until 1911 that Bilbao had its own golf club, the eleven hole Real Sociedad de Neguri, of which Arana's father, a very competitive golfer himself, was a founding member.

Although exposed to golf since an early age, the young Arana devoted most of his early sporting endeavours to sailing. He was a very accomplished sailor and a skilled craftsman, who enjoyed woodworking on his own boat. His competitiveness took him to represent Spain, at 21 years of age, in the 1926 Amsterdam Olympics. A broken mast, 500 metres from the finishing line, left him without a medal and was responsible for his quitting sailing. All Spanish golfers should thank that mast, given what Arana would do for the sport in the years to come.
We know little of what ignited Arana's architectural career, but we can speculate from his letters that he was engaged by the Federation to supervise reconstruction of Spanish golf courses due to his knowledge of maintenance practices and his familiarity with some of the best courses in Argentina, Britain and, especially, Continental Europe.

Arana's earliest architectural records date from 1940, when he started planning the reconstruction of the Club de Campo in Madrid, a new layout over an earlier 1932 Mackenzie Ross course which had been destroyed during the Civil War and which would not be completed until 1955. In 1946 his activities really took off: he remodelled Sant Cugat, a Colt layout from 1922, and designed a private baby course for the Riviere family in Puigcerdá, close to Barcelona. Arana, who had previously lived in Bilbao, moved to Barcelona in 1946 as a result of his divorce and the amount of work from other clubs in the area. He reconstructed the Pedralbes golf course (1947-48) and Real Club de Golf de la Cerdanya, his first original 18 hole layout (1948). Ironically, Arana's first golf course was missing two holes: he considered that available land was only apt for 16 holes and was not willing to compromise his routing to fit the missing holes – which were later added by the club. When members inquired how 18 hole play should be conducted on a 16 hole course, Arana replied that they should play 16 and repeat the two holes they liked most.
In 1974, following a petition from a friend, he designed his last golf course, Aloha, in Marbella, for which he personally selected trees and plants to ensure that each month of the year there would be flowers in bloom around the course. He died just a couple of months prior to the course being opened in 1975.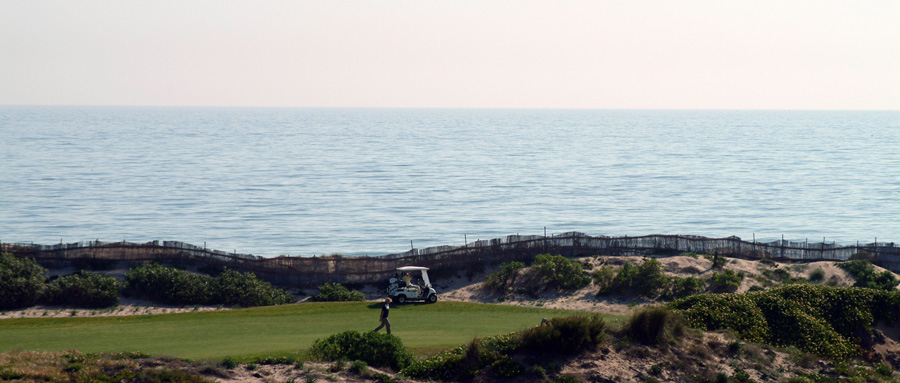 We can dare to say that Arana set the foundations for the development of the game in Spain by building strategic, fun to play courses that have been the nurturing ground for Spain's amateur and professional golfers in the last 40 years. Golf in Spain would not be what it is today had he not created such great courses as Neguri, El Prat, Club de Campo and El Saler. Let us hope his contribution to the game in Spain is regarded more highly in the future. (source)
Shinnecock Hills Golf Club, founded in 1891, is one of the historic golfing institutions...
Severiano Ballesteros is a charismatic name in the golf universe, a Spanish professional golfer...