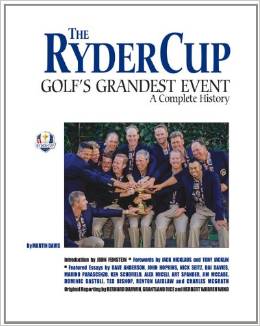 Featuring coverage of all 39 Ryder Cups, The Ryder Cup: Golf's Grandest Event – A Complete History contains essays by the game's premier writers, including John Feinstein; Pulitzer Prize–winner Dave Anderson of the New York Times; Jim McCabe of Golfweek magazine; and John Hopkins, golf correspondent from the (London) Times.
The most definitive, accurate, and up-to-date book on the Ryder Cup includes year-by-year recaps with original reporting by Bernard Darwin, Grantland Rice, and Herbert Warren Wind. In addition, a photo essay on the 2014 Cup Legendary Golf Clubhouses of the United States and Great Britain and a four-foot gatefold spread of a caricature illustration of the all-time Ryder Cup teams are included.
Publication date: November 7, 2014 (source)
About the Author

Martin Davis is the editor and publisher of the publishing company the American Golfer, best known for lavishly produced coffee-table books on the greats of the game, including Ben Hogan, Bobby Jones, Byron Nelson, and Jack Nicklaus. He is a member of the Golf Collector's Society of America, provides historical commentary for the Golf Channel, and occasionally contributes to the New York Times. He lives in Greenwich, Connecticut.
Is Your Golf Driving You Mad? It's not surprising. The game is hard. Despite...