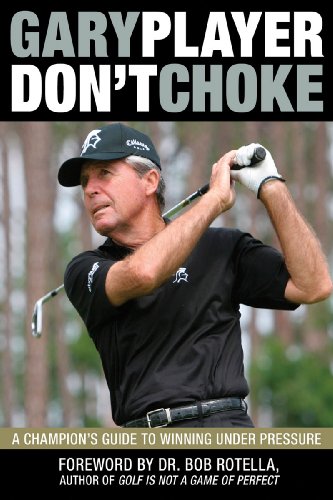 "Gary, as much as anyone I ever saw, has that thing inside him that champions have."Jack Nicklaus.
Gary Player is one of golf's greatest champions. As one of the "Big Three" of golf's golden era (with Jack Nicklaus and Arnold Palmer), he helped launch golf as a major international sport. He sits fourth on the list of most major victories on the PGA Tour and built a reputation of being fearless on the course and steely on the greens. Don't Choke is his look at what it takes to achieve success when the pressure is on. Player explains how and why he became a champion and what it takes to win in big-time golf, but he also explains how learning to cope in pressure situations can help anyone. He will review the most pressure-packed situations in his eighteen major victories and how he managed to succeed when things were most tense.
But this book is not all about golf. Player has had a long successful career in business since his playing days—designing golf courses, marketing golf equipment and sportswear, and more. If you want to do better in a boardroom or in your next job interview, Player's advice will help. This personal glimpse into the mind of a champion offers lessons to everyone who has to face pressure—and today that is all of us.
"Gary is one the greatest competitors who ever played the game."—Arnold Palmer 75 color illustrations
About the Author
Gary Player is considered one of the greatest golfers of all time, having eighteen major wins, nine on the PGA Tour and the other nine on the PGA Champions Tour. He is also considered the most accomplished international golfer of all time, winning 164 tournaments around the globe over five decades. Born in South Africa, he lives in The Cliffs, South Carolina.
Dr. Bob Rotella is consistently recognized as the world's premier sports psychologist. He has dedicated his life to helping coaches, athletes, business leaders, and salespeople use their minds and emotions to take them to the top of their chosen professions. Rotella is the author of Golf Is Not a Game of Perfect, the bestselling sports psychology book of all time, as well as several other top-selling books. He has been selected as one of the "Top 10 Golf Teachers of the 20th Century." In addition to being a columnist and editorial board member for Golf Digest magazine and a contributing editor for Sports Psychology Journal, he appears regularly on NBC's High Performance Golf, on the Golf Channel, and Larry King Live. (source)