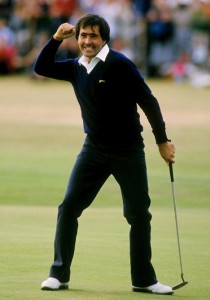 The Royal and Ancient Golf Club of St Andrews has announced that Seve Ballesteros has accepted its invitation to become an Honorary Member.
Ballesteros, who joined the exclusive group of golfers to have won the Open at the Home of Golf when he holed this putt on the 18th green in 1984, has made no secret of his desire to be well enough to be at St Andrews for the Open in July, a point he reiterated in accepting the invitation. "I am greatly honoured to accept Honorary Membership of The Royal and Ancient Golf Club of St Andrews".
Ballesteros first caught the attention of the golfing public when, as a 19 years old, he finished in a tie for second behind Johnny Miller at the 1976 Open at Royal Birkdale. He then went on to win five major championships between 1979 and 1988, adding two Green Jackets to his haul of three Claret Jugs. His legendary fist pump – a reaction to holing a curling 19 foot birdie putt on the final hole of the Old Course to claim his second Open Championship – became famous the world over and is now used as a logo for his group of companies. (Source: Golf International Magazine)
One of Sweden's oldest golf clubs, Falsterbo was founded in 1909 in a small...
…The Creation of the World's Greatest Golf Courses in the Words and Images of...